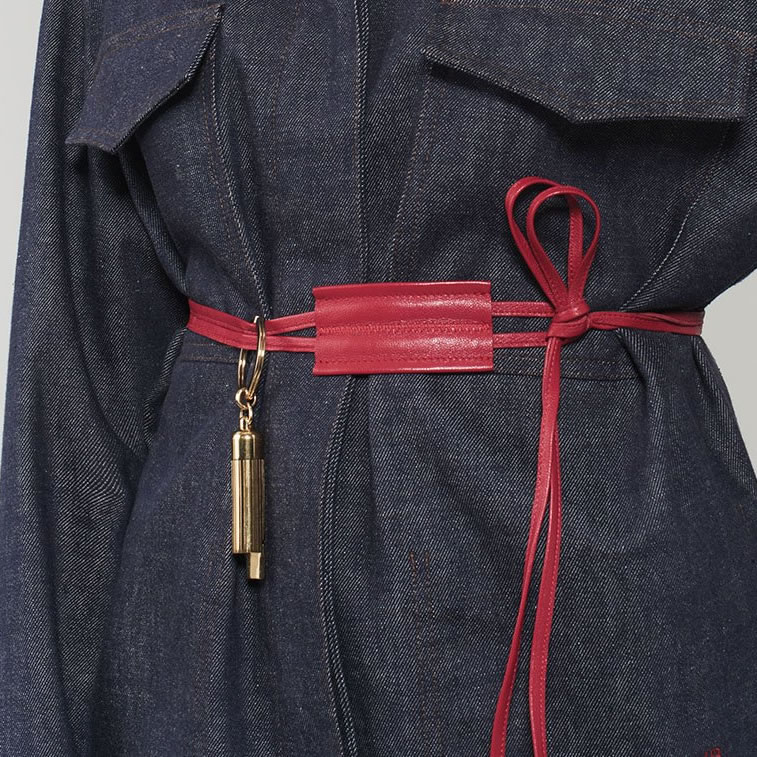 I'm Obsessed with Victoria Beckham Jewelry (And You Thought She Only Designed Clothes?)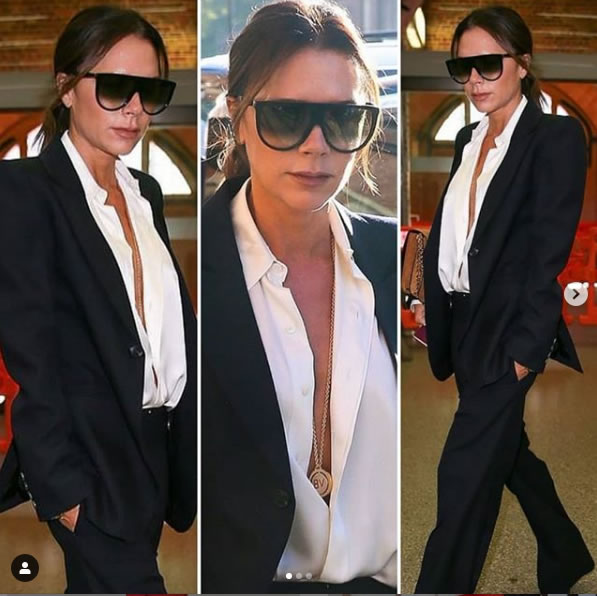 It may be early in the game, but I'm nominating British-born Victoria Beckham (aka Posh Spice) for International Designer of the Year 2019. As she celebrates her recent People's Choice Fashion Icon Award and the 10th anniversary of her successful clothing brand, VB's fan base is growing exponentially—including those, like me, who love her jewelry and accessories.
Although it has lived somewhat under the radar until now, I believe Victoria Beckham Jewelry is poised to take off in 2019. Her tailored Fashion Jewelry pieces are sleek, chic, and relatively affordable. Let's take a closer look.
Crafted in Italy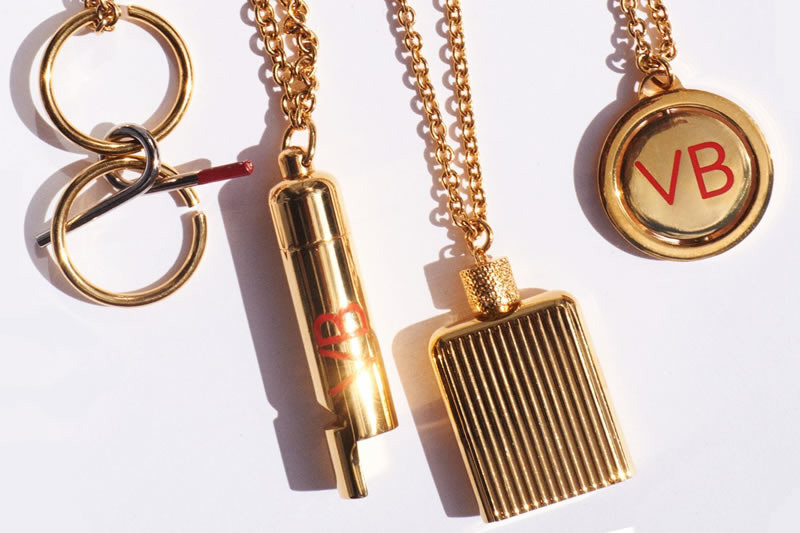 Victoria Beckham Jewelry is crafted in Italy and is known for its minimalist, sharp lines which echo the silhouettes of her clothing collection. One of her style signatures is the use of everyday objects, including bottles and whistles, reimagined in gold-tone brass and suspended from long chains.
These popular pendants offer just the right proportions for VB's body-conscious dresses and classic separates. They will also work with everything from your winter puffer jacket to summer shifts and maxi-dresses…modern jewelry staples that any fashion girl would want to own.
I love the bold rectangular Bottle Necklace (pictured above and below), made from gold-tone brass with a fluted finish and textured screw-top. Featuring a discretely embossed VB monogram, it is handcrafted in Italy and retails for $400 at victoriabeckham.com.
To VB or Not to VB?

It's no secret that high fashion has come down with a permanent case of logomania. Brands from Dior to Gucci to Versace are famous for emblazoning their clothes and jewels with their initials and logos. So why should People's Choice Fashion Icon Victoria Beckham do anything less?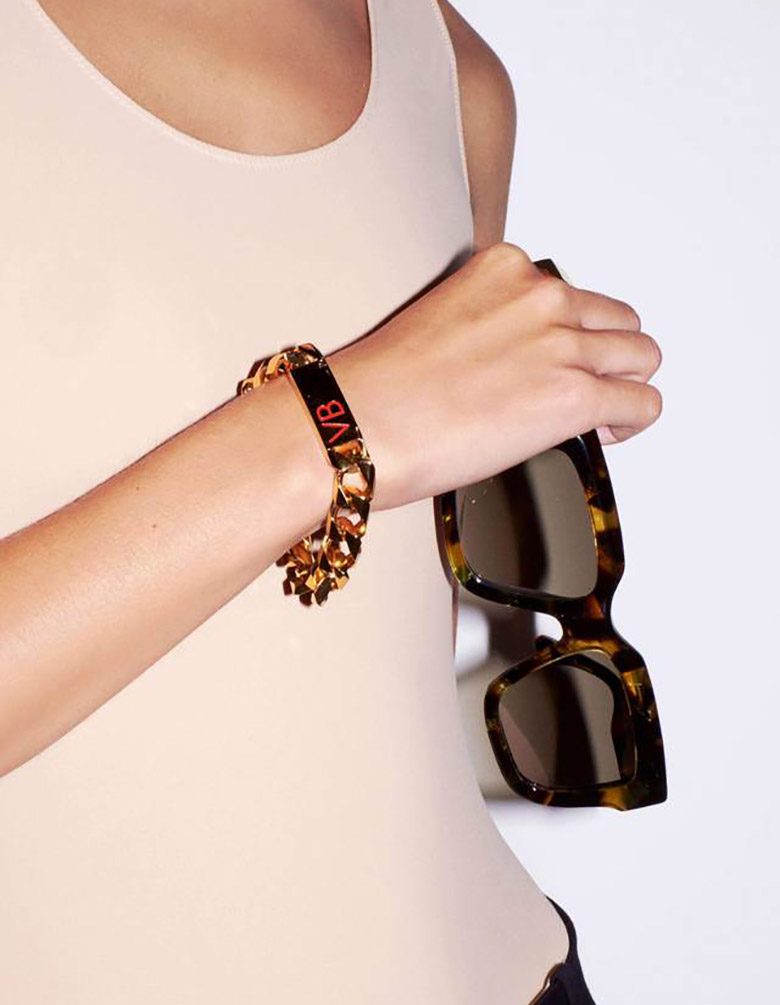 Most of Beckham's newest jewelry designs carry an embossed VB monogram enameled in red, the color she is using to celebrate her company's 10-year anniversary. I'm cashing in a holiday gift card to add this curbed link Gourmette Bracelet to my chunky gold jewelry collection. Handmade in Italy of 100% brass, it's $320 at victoriabeckham.com.
Celebrities' Choice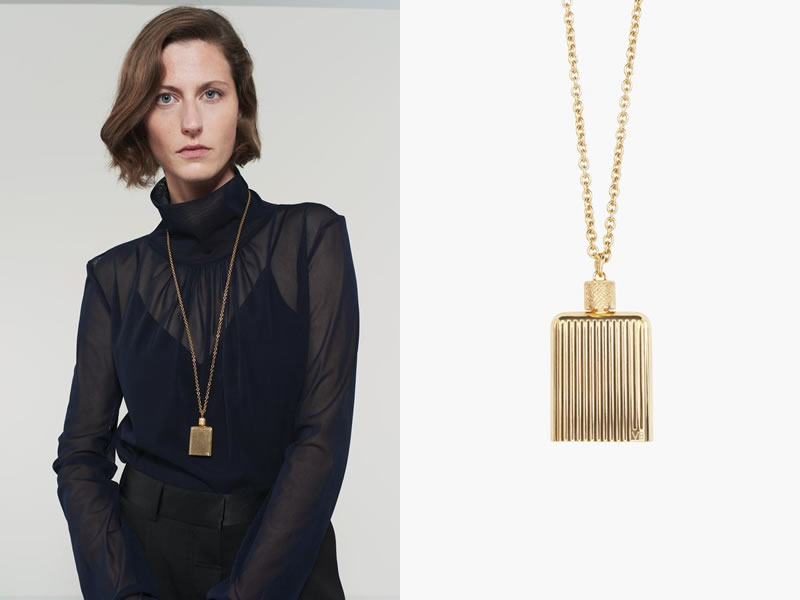 Considering Victoria Beckham's pop icon background, and that of her husband, soccer legend David Beckham, it's no wonder VB's fashion brand has legions of potential fans. A-listers and mere mortals around the globe follow the photogenic Beckham family on social media, including 23.8 million on VB's Instagram feed alone!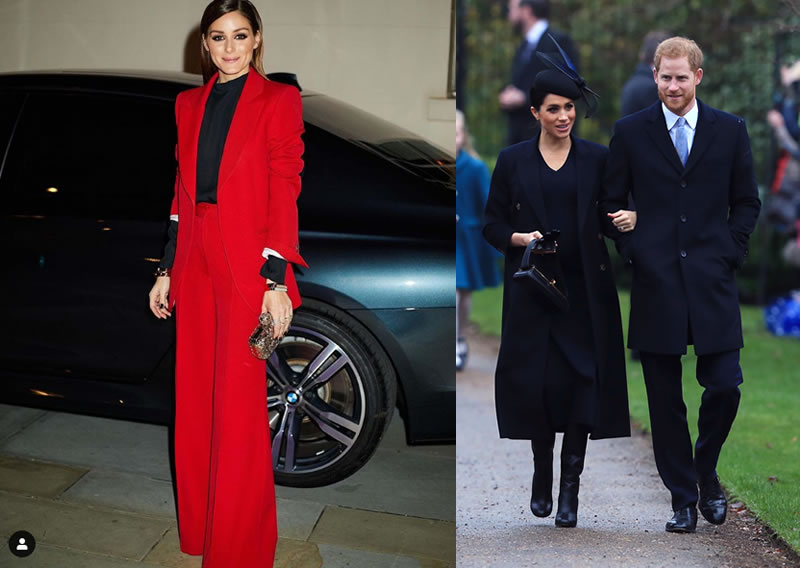 VIP VB fans include the Duchess of Sussex (Meghan Markel), who wore a navy blue Victoria Beckham coat and dress on Christmas day. Fashion influencer extraordinaire Olivia Palermo chose a bright red trouser suit from the Pre-Spring/Summer '19 collection to wear to the British Fashion Awards in December.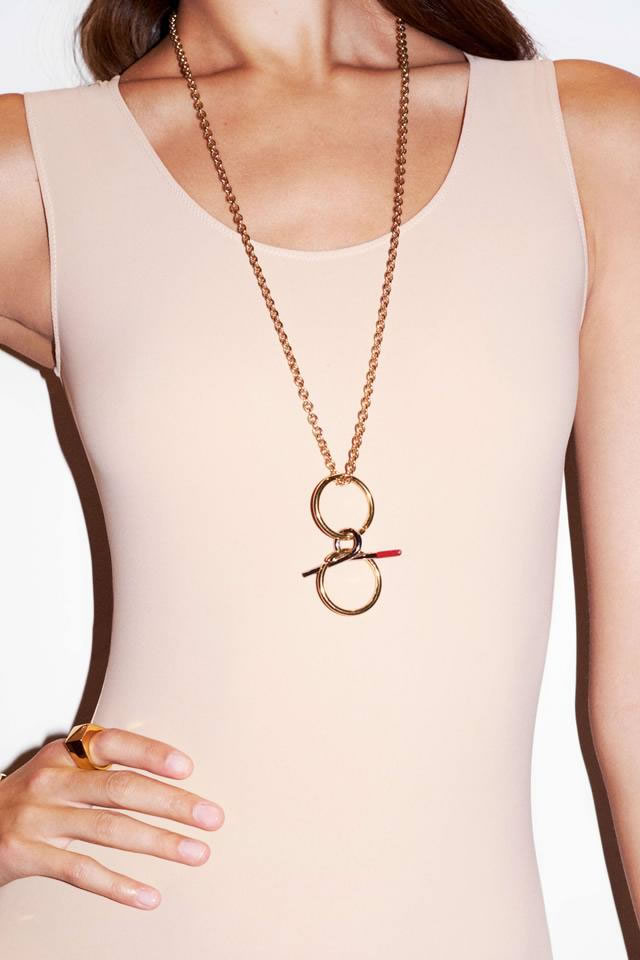 Both celebrity outfits would have looked perfect with VB's Japanese Casse Tete Necklace, pictured here. This abstract pendant is based on a puzzle game and features two gold links and a twisted silver bar, dipped in red. It's available for $240 at victoriabeckham.com.
Yes, please!