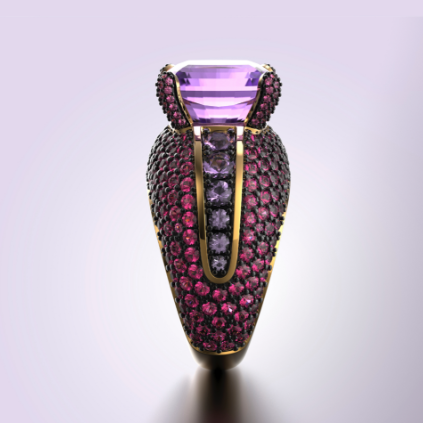 The Best

Amethyst

Jewelry Cleaner
Amethyst, the February birthstone, is from the quartz family of minerals, which means it's a relatively durable gemstone, scoring 7 out of 10 on the Mohs Scale of Mineral Hardness.  As with all gemstones, care should be taken to protect amethyst from scratches and sharp blows. Avoid wearing your amethyst jewelry when cleaning, gardening, or at the gym.
To maintain the brilliance of amethyst, you should clean it properly on a regular basis.
The best way to clean an amethyst that is set in gold or platinum is to use Connoisseurs Dazzle Drops Advanced Jewelry Cleaner. With this non-toxic cleanser, you can utilize a fresh solution every time you clean for the most effective results. You can also try Connoisseurs Fine Jewelry Cleaner in the familiar red jar.
If your amethyst jewelry is set in silver, use Connoisseurs Dazzle Drops Silver Cleansing Crème.  This solution cleans and removes tarnish from silver and is safe to use on all gemstones.

Physical Description

Generally clear of inclusions but authentic stones may have inconsistencies. Easy to cut and can come in many shapes.
Color Range
Purple and Violet