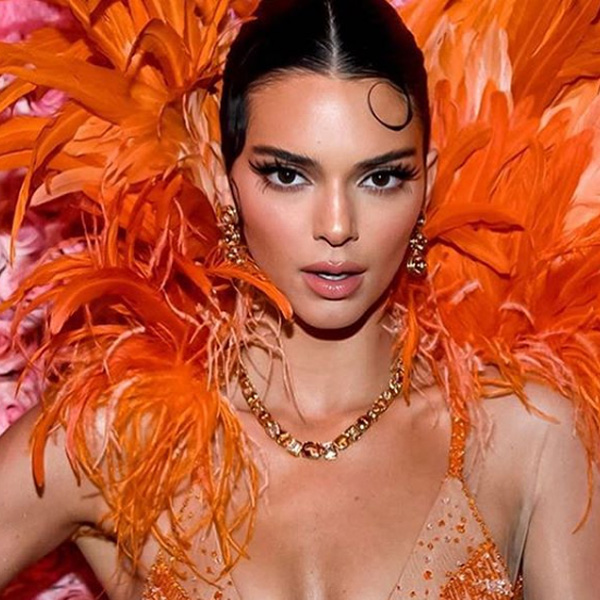 How to Get Kendall Jenner's Jewelry Style on a Real-Girl Budget
Did you see Kendall Jenner and her sister Kylie at The MET Gala? I thought they looked like dazzling Ziegfeld Follies showgirls in their feathered Versace gowns and designer jewels.
Our 2017 post How to Get Kendall and Kylie's Jewelry Style on a Budget is one of our most popular ever, so I thought I'd tackle the Jenner sisters again.
However, this season there is just too much fabulosity to deal with in a single post; I'm taking them on one at a time.
Let's explore how to get Kendall Jenner's jewelry style—both red carpet and IRL—on a budget we can all afford.
Then, we'll do the same with Kylie in the weeks ahead.
Here we go….
Kendall Loves Tiffany…
…and Tiffany loves Kendall! This spring Tiffany & Co. tapped 23-year-old Kendall Jenner as the face of its Tiffany T collection, clearly appealing to young jewelry-obsessed customers who look up to the stunning supermodel.
At the April grand opening of the flagship Tiffany store in Sydney, Australia, Kendall accessorized her bright pink mini with diamonds, of course, and a gorgeous pink tourmaline and sapphire butterfly necklace from the Tiffany Blue Book Collection.
Kendall's choker features 400 pink sapphires and 11 carats of morganite, which she wore with an oval morganite ring and two Tiffany T wire rings in 18K gold with diamonds.
You can capture Kendall Jenner's jewelry style and butterfly spirit for a song. The Trust Your Journey Butterfly Necklace from Brighton Collectibles is only $76 at brighton.com.
Kendall's Tiffany T Ring in 18K gold with diamonds retails for $1,600, but I found one "previously loved" on The Real Real for $795. I'm doing my part for the sustainability movement!
[one_half]
[/one_half][one_half_last]
[/one_half_last]
[one_half]
[/one_half][one_half_last]
[/one_half_last]
[dropshadowbox align="center" effect="perspective-right" width="360″ height="" background_color="#ffffff" border_width="3″ border_color="#c20b0b" inside_shadow="false" outside_shadow="false" ]
[/dropshadowbox]
Kenny Does Coachella
Both Kendall and Kylie Jenner are regulars at Coachella, making paid appearances and relaxing in their down time by taking in the musical acts.
This year Kendall appeared at the Revolve party in an adorable mini-dress with funky green leather boots and ladylike accessories, including small gold hoops by Misho.
Off-duty Kendall was snapped in the Coachella audience wearing bigger gold hoops, just like the rest of us.  I'm buying Jenny Bird's Icon XL gold-tone beauties for $95, available at jenny-bird.com.
[one_half]
[/one_half][one_half_last]
[/one_half_last]
Kendall's Chain Reaction
Kendall appeared on The Tonight Show Starring Jimmy Fallon rocking a pair of triple chain-link earrings with her casual ponytail. They appear to be the chain motif Meadow Earrings by red-hot Jennifer Zeuner Jewelry.
Available in gold vermeil, rose vermeil and sterling silver, this chic earring is my new go-to for spring/summer fashions…and beyond. They're priced at $132 at jenniferzeuner.com.
Happy shopping!
[one_half]
[/one_half][one_half_last]
[/one_half_last]
Want to see more "Best Jewelry Looks for Less" features? Click here. And if you liked Kendall Jenner's jewelry style, watch for Kylie's profile, coming soon.