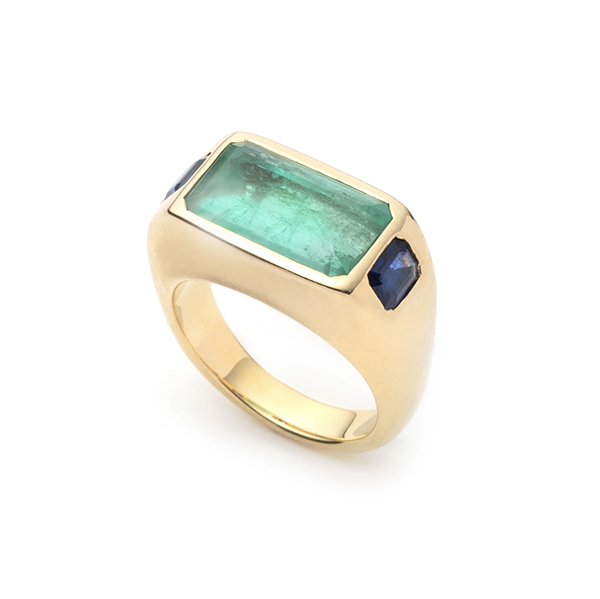 What's New in Wedding Rings? Consider a gypsy-set wedding band
Can a hot jewelry trend cross over to become a full-fledged wedding jewelry tradition? In the case of gypsy-set rings, the answer is a resounding yes. Industry authority Rapaport Magazine reports: "Statement-making, androgynous and almost exclusively composed of yellow gold, gypsy rings are hugely in fashion right now." Look for gypsy-set wedding bands to be the next big thing among brides- and grooms-to-be.
Everything old is new again
Gypsy-set rings have been around since Victorian times, and the term is still widely used in the jewelry industry today. A gypsy-set ring is a setting-centric ring in which diamonds and/or gemstones sit flush in the surface of a precious metal band.
Usually made of gold, and sometimes described as "casual," the gypsy-set ring is understated. As opposed to the flash of a high-prong setting, the eye is drawn downward to admire the beauty of the stones.
Is a gypsy-set wedding band right for you?
With their signature low profile, gypsy-set rings appeal to men as well as women…and anyone searching for something other than conventional wedding band. While many of these rings are sleek and modern, they can easily accommodate a couple's need for tradition. Oftentimes, bespoke gypsy-set rings are created by resetting family heirloom stones.
In addition, the gypsy-set wedding band can be a practical choice. You can select or design one to serve as a combined engagement ring and wedding band, similar to the way an eternity ring can serve a dual purpose.
Meet the designer
Jean Prounis is a New York-based fine jewelry designer whose self-named company debuted in 2017. Since then, she has garnered a tremendous following and much buzz among the jewelry press—and she's only in her 20s! An alumna of Skidmore College (my alma mater), Jean specializes in 22K gold jewelry with precious and semiprecious stones. Her brand has been celebrated in National Jeweler, Town & Country (in its prestigious Will's Notebook IG account), Vogue, and The New York Times.
"Prounis has also become popular for its own spin on the gypsy-set ring, which features large, usually included gemstones erupting beyond the surface of the setting — though these more ancient, talisman-like designs still maintain the simplicity of the gypsy setting," — Jewelry Connoisseur by Rapaport Magazine
Look to OBJ for more news about red-hot Prounis Jewelry soon. In the meantime, check out Jean's stunning designs at prounisjewelry.com, and follow her @prounisjewelry on Instagram.