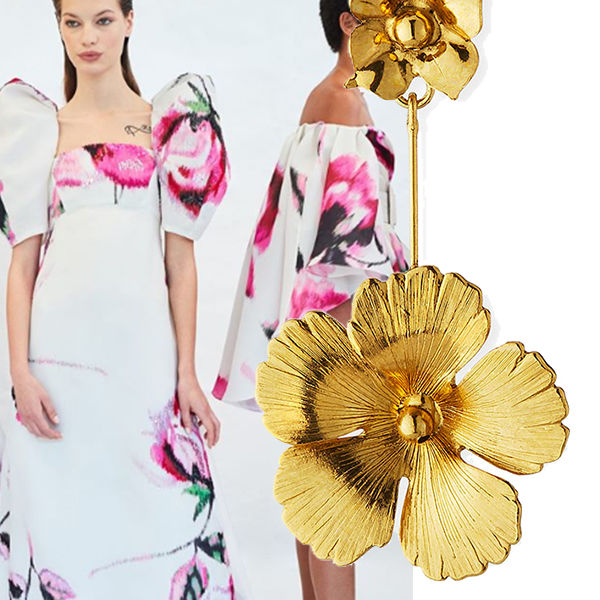 Trending: Spring 2020 Prints (and the Jewelry That Loves Them)
It's Fashion Week in NYC, the time when top ready-to-wear designers are showcasing their latest looks for next fall. But in the real world the Spring '20 collections have just hit the stores and sites we shop. One unmistakable megatrend has emerged that sets my heart racing: a bevy of statement prints from many of the best runway shows. Here are three trending Spring 2020 prints that may surprise you…along with jewelry suggestions to help make them sparkle.
Retro Wallpaper Prints
As cozy as your Grandma's kitchen or couch, wallpaper prints from the '60s and '70s are making a comeback. These colorful mod patterns turned up at Fendi, Christopher Kane, Prada, and Marc Jacobs…some tending toward the psychedelic or bohemian style. With this kaleidoscopic style it's tempting to keep your jewelry simple; polished gold hoops or drops would let the print do all the talking. But let's be bold (or go home) by highlighting one key colorway with bright acrylic earrings and bangles. Jewelry designers Alexis Bittar and Alison Lou have got you covered.
Pretty Polka Dots
The sprightly polka dot print has been a signature of fashion designer Carolina Herrera since the '80s. Today, under her successor Wes Gordon, the CH collections are still spot-on classic and trendsetting at the same time. What makes the polka dot a perennial favorite among the likes of Ralph Lauren and Tory Burch? The trick is mixing dot sizes and density… and sometimes using the pattern as a solid. Jewelry and accessories designers are going dotty this spring too. Witness studded baroque pearl pendants by Ariel Gordon (no relation to Wes), and adorable polka dot hair ties by Lele Sadoughi.
Groundbreaking Florals
Even Miranda Priestly would approve of the current crop of painterly florals, our final Spring 2020 print recommendation. With oversized brushstrokes on everything from leather to satin, museum-worthy designs by Herrera, Fendi, and Missoni look fresh and modern. If you're floral-shy, consider adding just one piece, say a jacket or sweater, to solid or striped trousers. Want to find your flower power through jewelry? I'm buying a pair of Metal Petal earrings by Rebecca De Ravenel to help me spring forward to the season ahead.
[dropshadowbox align="center" effect="lifted-bottom-right" width="86%" height="" background_color="#ffffff" border_width="1″ border_color="#dddddd" rounded_corners="false" inside_shadow="false" ]
Spring 2020 Prints Look Best With Shining Jewelry
The new fashion season is the perfect time to give all your jewelry a thorough at-home cleaning. I recommend new All Purpose Jewelry Cleansing Foam from Connoisseurs. Quick and easy to use, Jewelry Cleansing Foam is strong enough for diamonds and gemstones, yet gentle enough for pearls and costume jewelry. Check it out right here![/dropshadowbox]
Did you like OBJ's Spring 2020 prints and jewelry selections? See more jewelry styles from the Fall 2019 collections here.