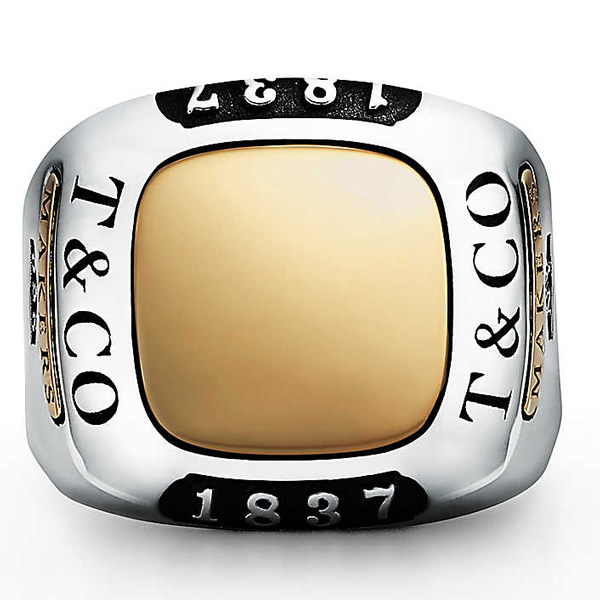 Holiday Head Start: The New Tiffany Men's Collection
Do you secretly dread holiday shopping for the main man your life? It can be daunting, but this year we're in luck. Tiffany & Co. has just released an array of men's jewelry and accessories under the "Tiffany Men's" umbrella name. There are two distinct capsules to the new Tiffany Men's Collection: "Tiffany 1837 Makers," a tip of the hat to the company's inaugural year, and "Diamond Point," featuring a graphic pattern. Let's see what's inside those iconic blue boxes…for the guys.
100 Different Designs
More men are embracing bold jewelry these days, due in part to red carpet and social media influencers. I, for one, am glad that Tiffany has stepped up to help us find our men the perfect styles…and just in time for the holidays.
According to Robb Report, "there are nearly 100 different designs, ranging in price from about $200 to $15,000. In the past, Tiffany has offered a selection of more conservative men's pieces—like wedding rings, watches and money clips, which it will continue to carry—but the new collection will put a contemporary spin on men's high-end jewelry."
Tiffany 1837 Makers
Tiffany 1837 Makers jewelry was inspired by the company's tradition of handcrafting sports trophies in its workshops. It's all about classic craftsmanship for the modern man
Chief Artistic Officer Reed Krakoff said in a press release: "Tiffany 1837 Makers is a nod to the workmanship and time-honored techniques used in creating jewelry—the idea that there's a person behind each object."
All the pieces in this collection are stamped with the symbols T & CO MAKERS, AG925, and NY. The AG925 symbol refers to the sterling silver content: 925 parts out of 1,000.
I love the 1837 Makers Trophy Ring…it resembles a Super Bowl ring without the gemstone bling.
Tiffany Men's Collection: Diamond Point
[one_half]
[/one_half][one_half_last]
Diamond Point styles in the Tiffany Men's Collection feature an all-over diamond pattern as the main design element.
My favorite pieces in this capsule collection are the sterling silver pendants, cuffs, and tie clips.
A Diamond Point ring in silver or gold would make a perfect wedding ring this holiday season…and beyond.
According to a Tiffany spokesperson, the graphic diamond pattern was "inspired by a diamond's culet [point] that ties back to our diamond authority."
[/one_half_last]
[one_half]Clearly this industry authority, brand heritage and respect for craftsmanship are important touchpoints for Mr. Krakoff's new Tiffany Men's Collection.
These are gifts we can all be proud to put under the tree…so let's start our shopping at Tiffany.com.[/one_half][one_half_last]
[/one_half_last]