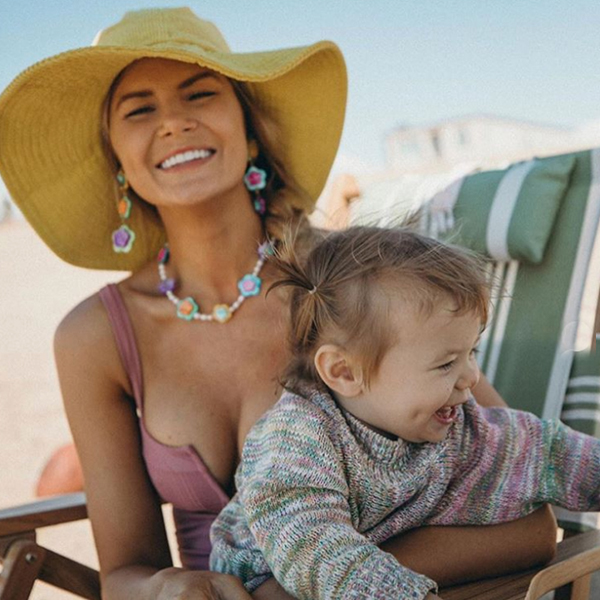 Mother's Day 2020 Jewelry Gift Guide: All Moms Deserve Some Extra Sparkle!
This Mother's Day, May 10, will be like no other in our memory…and that's precisely why it's so important to remember Mom this year. Just like many of you, I am separated from all the important women in my life; we're social distancing to help keep everyone safe. While I cannot indulge in brick-and-mortar shopping, I still plan to give my loved ones fashionable jewelry and accessories available online. Here are some terrific Mother's Day 2020 jewelry gifts ranging from the ultra-colorful to the highly personalized. Be sure to order soon for on-time delivery!
Earrings by Mother and Daughter Brinker & Eliza
Mother-daughter design team Brinker and Eliza Higgins have grown their three-year-old fashion jewelry line into one of 2020's hottest brands…largely on the strength of Instagram. I love their candy-colored earrings, many with on-trend drop styles. Most are available for under $150 at brinkerandeliza.com.
Secret Message Talismans at Fortune & Frame
I first told you about these capsule and fortune cookie pendants with "hidden" messages back in 2016. Now Fortune & Frame has expanded its line to include many more gold-tone and sterling silver styles. You can pick one of their fortunes, or supply one of your own like I did for my sister and nieces. I ordered the custom message, "You must do the thing you think you cannot do," an inspirational quote from Eleanor Roosevelt. Enclosed in 14K gold-plated sterling silver, the necklace is $138 at fortuneandframe.com.
Life of the Party Jewelry by Roxanne Assoulin
OBJ fans are no doubt familiar with Roxanne Assoulin's classic Hip Hop But Not Earrings, colorful drops that signal happy summer days ahead. See also her new "Life of the Party Set-of-Three Gold-Plated Enamel Bracelets," the perfect Mother's Day 2020 gift for your mom, daughter, sister or bestie. Roxanne is the mother-in-law of powerhouse fashion designer Rosie Assoulin, and both their brands are carried by popular sites like Moda Operandi. You can order the bracelet set ($255) and earrings at roxanneassoulin.com.
DIY Customized Bracelets at BaubleBar
Brand new at BaubleBar, pretty Silk Wraps (three colors for $18) are meant to be worn with sets of three gold-tone letters ($18). Wrapped as a bracelet, necklace or anklet, this is a versatile fashion statement if I've ever seen one! Want to spell out a longer message? Additional letters are available for $8 each at baublebar.com. Note: Slide the customized metal letters off for easy cleaning.
Superstar Mom? Give Her a Constellation Necklace
I am in awe of all the mothers who are working from home right now and supervising their kids' education. Let's commemorate their stardom with this personalized Zodiac-inspired necklace in sterling silver and crystals. The sparkling "When the Stars Align Constellation Necklace" is on sale for $58 at sterlingforever.com. Don't forget to buy one for yourself!
Mother's Day 2020 Jewelry Gift Cleaning Tip
For best results, you can care for all the Mother's Day jewelry gifts above and more with All Purpose Jewelry Cleansing Foam by Connoisseurs. It's strong enough for diamonds and gemstones, and gentle enough for pearls and costume jewelry. Plus, Jewelry Cleansing Foam is non-toxic to people, pets, and the environment.