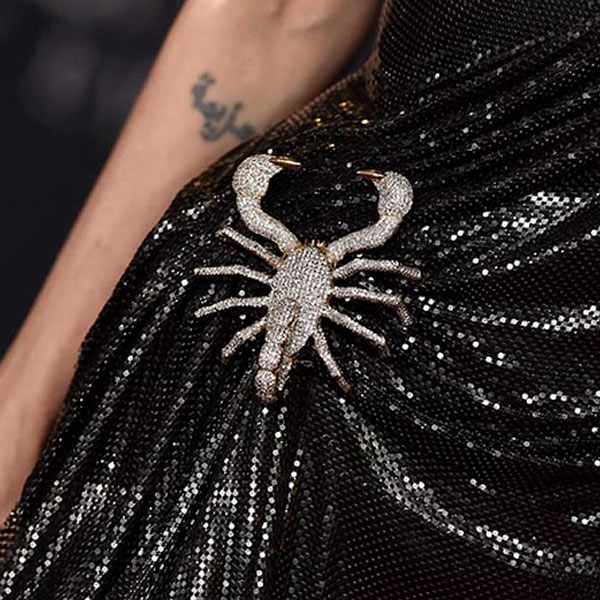 What to Collect Now: Spider & Scorpion Jewelry Styles Are Trending
In the annual run-up to Halloween our Instagram feeds have been haunted by spooky jewelry styles, including skulls and skeletons, spiders and webs. It's easy to dismiss many of these macabre baubles as seasonal oddities, not to everyone's taste. But this year it seems some of the creepiest critters have come to stay. Look for bejeweled spiders and scorpion jewelry designs on all the best holiday gift lists. I, for one, am obsessed.
Angelina Jploe and her children on the red carpet at the London premiere of Meleficent: Mistress of Evil, September 30, 2019.
Angelina and the Scorpion
When Angelina Jolie pinned a 50-carat diamond scorpion to the waist of her Versace last month, red carpet watchers around the world collectively swooned.
Not only did it signal again that the brooch is back, we learned the co-designer of this particular brooch was none other than the Maleficent star herself.
Jewelry expert, author and editor Marion Fasel broke the full story on The Adventurine, making the prediction: "With this scorpion and the spider brooch worn by British Supreme Court's President, Lady Hale, last week as she announced Prime Minister Boris Johnson's move to suspend parliament was unlawful—the trend for creepy crawlers feels well underway."
Scorpion Jewelry for the Rest of Us
People whose birthdays fall under the astrological sign of Scorpio (October 23 – November 22) are natural-born collectors of scorpion jewelry. Twentieth-century style icon Grace Kelly, Princess of Monaco, was a case in point. Every year around her birthday (Nov. 12) she held a Scorpion Ball and asked her guests to wear "something scorpion" with their glittering outfits.
Today, because Zodiac jewelry is such a hot fashion trend, many of us are collecting multiple signs just because we find them aesthetically pleasing. Although I'm a Gemini, I've always coveted Elsa Peretti's Scorpion Necklace for Tiffany & Co. The store is reporting brisk sales of this arachnid style in both sterling silver and 18K gold.
Not So Itsy Bitsy Spiders
Collectors of spider jewels, including brooches, necklaces, bracelets and earrings, don't necessarily view them as seasonal, or even unusual. For these jewelry lovers the spider is simply a bold statement piece…the bigger the better.
Many consider the spider jewel to be a symbol of good luck, especially when received as a gift (hint hint). Finding a spider pin or necklace set with an opal, the birthstone for October, is said to bring extra good fortune (contrary to the myth that opals can bring bad luck to their wearers).
I love the vintage spider jewels from the collectibles site 1stDibs, featured above. They would look stunning on a camel coat or an oversized blazer this winter…and beyond.
Happy shopping!