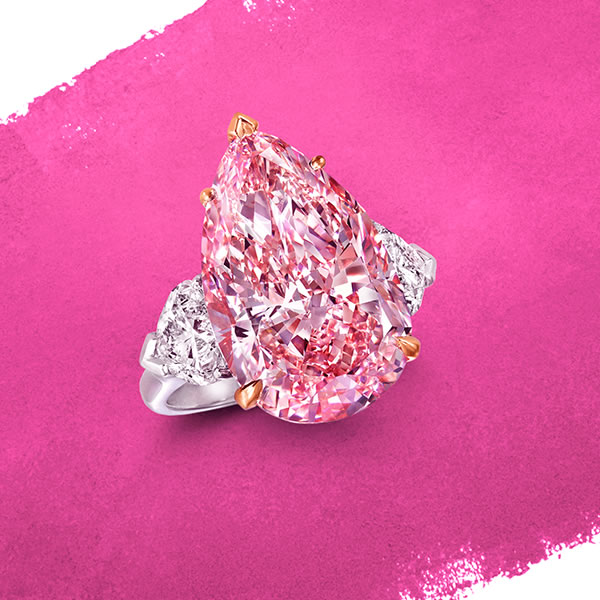 Trending: Pear-Shaped Engagement Rings | Return of a Modern Classic
Welcome to the ninth post in our monthly series, OBJ Weddings. If you're about to start ring shopping or know someone who is (hint, hint), consider an elegant, elongating pear-shaped engagement ring. This contemporary classic is staging a sparkling comeback. Let's take a closer look, shall we?
No Time Like the Present
[one_half]
[/one_half][one_half_last]
[/one_half_last]
This week marks the start of fall, which means engagement season is right around the corner. Jewelers say that official engagement season coincides with the holidays, roughly Thanksgiving through Valentine's Day. I'm not a jeweler, but I would definitely include October in engagement season. According to The Knot, October has surpassed June as the most popular month for marriages; and we all known couples who have gotten engaged at other people's weddings!
Why Pear-Shaped Engagement Rings?
Pear-Shaped Garnet and Diamond Lys Calla Ring by Mathon Paris, available in the U.S. only at gerardriveron.com
Private jeweler Gerard Riveron reports that one of the hottest trends in engagement rings this year is pear-shaped diamonds. "The beautiful Pear-shaped silhouette combines edginess (literally) with sensuous curves, a cross between a Round and Marquise diamond," Riveron told me from his Boston atelier.
Pear-shaped diamonds can be extremely brilliant and often bring to mind a single drop of pure, clear water. "I've always liked diamonds cut in a Pear Shape, often called Teardrop, as in a tear of joy when celebrating love," added Riveron.
Classic Style/ New A-List Fave
Pear-shaped diamonds have actually been around since the 15th century but the modern pear cut, as we know it, was refined in the 1900s with sophisticated diamond cutting tools. Today, many brides combine a contemporary pear-shaped diamond or colored gemstone with a vintage-style setting for a one-of-a-kind look.
Pear-shaped engagement rings fell out of favor a bit in the late '90s and early 2000s. Some blame it on Sex in the City's Carrie Bradshaw, who had a violent reaction to boyfriend Aiden's ring choice (she was never shy about her jewelry, right?).
But that was then and this is now. In the past few years, A-list celebrities Cardi B, Scarlett Johansson, and Sophie Turner, among others, have all given pear-shaped engagement rings unprecedented social sparkle.
What's the Point?
Another reason I love a pear-shaped engagement ring is because it tends to elongate the hands and fingers. Worn with the point facing down (inward), the ring forms a direct line in from the ring finger to the heart. Worn facing up (outward), it can point to the one you love.
This built-in versatility allows you to customize your look whenever you wish, a quality unique to pear-shaped stones. I love them!
[dropshadowbox align="none" effect="lifted-both" width="auto" height="" background_color="#ffffff" border_width="1″ border_color="#dddddd" ]
As Seen on AOL.COM
"How to take care of your engagement ring, according to an expert" – August 28, 2019
AOL.COM reporter Julia Webb interviewed Jeff Brenner, co-founder of Couple, a jewelry company that specializes in creating lab-grown diamond engagement rings and wedding bands.
In answer to the question "How should I clean my ring?" the article linked readers to the Connoisseurs Diamond Dazzle Stik on Amazon, right here.
Try a Diamond Dazzle Stick to clean your engagement ring and all your diamonds, natural or lab-grown, on the go.
[/dropshadowbox]
Don't miss Marion Fasel's post, "Scarlett Johansson's Engagement Ring is EPIC," at The Adventurine. You can read it here.
And for more articles from our OBJ Weddings series, please click here.