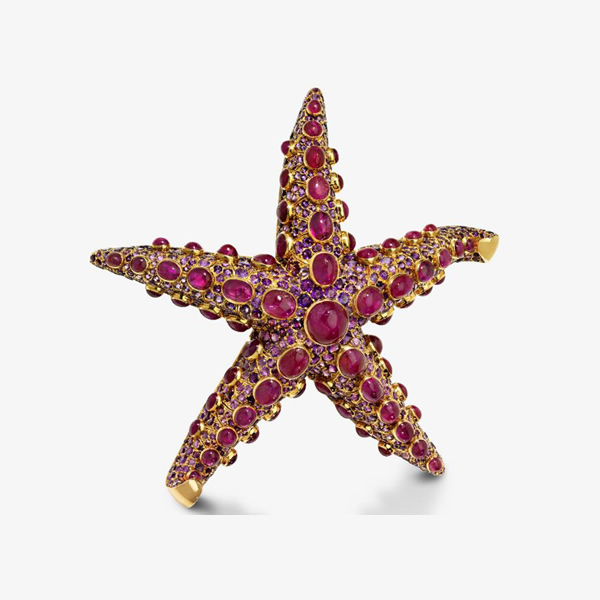 The Broosh…The Starfish…And Doria's Power Pin | Are Brooches Trending Again?
The brooch has a PR problem. Never mind that this versatile jewelry style has been worn for millennia, brooches suffer from a bad rap; many consider them too fuddy-duddy. Maybe it's the word brooch: rhymes with coach…reads like Gooch…makes you think of a bespectacled librarian. But add the name Chanel, Gucci, or Prada—as in Chanel Brooch—and the term takes on a whole new luster. Or invent your own word! That's what Nike did last week when it introduced The Broosh, a hybrid of brooch and the famous Nike Swoosh. Read on…
Serena Williams Debuts The Broosh
[one_half]
[/one_half][one_half_last]
[/one_half_last]
While I was glued to the Wimbledon coverage for a sneak peek of Serena Williams' new jewelry line, Nike swooshed in to steal the show. The athletic wear behemoth, which makes all of Serena's on-court looks, presented her with a custom-made Broosh…a Swarovski crystal -bedazzled brooch designed in the shape of the highly recognizable Nike Swoosh.
Clearly the marketing wizards at Nike were on top of their name game, finding a way to make the recurring brooch trend sound cool to new generations of customers. Their bespoke Nike Broosh, made only for Serena, features 34 Swarovski crystals representing her age when she last won Wimbledon in 2016.
Now let's see if Nike will make a Broosh for the rest of us. Want to bet there will be a version in Macy's before long?
Iconic Starfish Brooch Acquired by the MFA
[one_third]
[/one_third][one_third]
[/one_third][one_third_last]
[/one_third_last]
In other brooch-related news, National Jeweler reported last week that Boston's Museum of Fine Arts has acquired a 1930s gold, ruby and amethyst starfish brooch designed by Juliette Moutard for the legendary house of René Boivin. The life-size starfish pin is fully articulated, meaning its arms (or are they legs?) move separately, creating maximum sparkle as they do.
I've always loved the starfish jewelry motif, and this season sea creatures and seashell jewels are more popular than ever. If you want your own version of this priceless piece, head to Kenneth Jay Lane or Neiman Marcus. KJL's pink crystal ode to the original is available for $250.
Pin This: Doria Ragland Stuns at Royal Christening
The Queen didn't make it to Archie Harrison Mountbatten-Windsor's christening but his American grandmum represented in regal style. With a nod to Queen Elizabeth's penchant for brooches, Doria Ragland accessorized her stunning peach outfit with a sunburst-shaped power pin of gold, diamonds, and a central pearl.
[one_half]
[/one_half][one_half_last]
[/one_half_last]
In the official christening portrait released by the Duke and Duchess of Sussex (aka Meghan Markle), Ms. Ragland is standing next to the Prince Charles. Her power position was widely noted by the press and social media…look for more from this fashion influencer in the months to come.
Brooshes…Brooches…Clips…What's in a Name?
[one_half]
[/one_half][one_half_last]
[/one_half_last]
In the May issue of Harper's Bazaar, editor-in-chief Glenda Bailey captioned a photo of a diamond brooch on the magazine's coveted What We Love page "a clip by Van Cleef and Arpels." Could this be another way of making the classic ornament's name sound a little more modern and accessible to younger audiences?
Whatever you call it, I say: a brooch by any other name can sparkle just the same. Add one to your jewelry wardrobe today…and keep it clean with Connoisseurs!
Want to read more about how to accessorize with brooches? Please click here.
Source: NationalJeweler.com