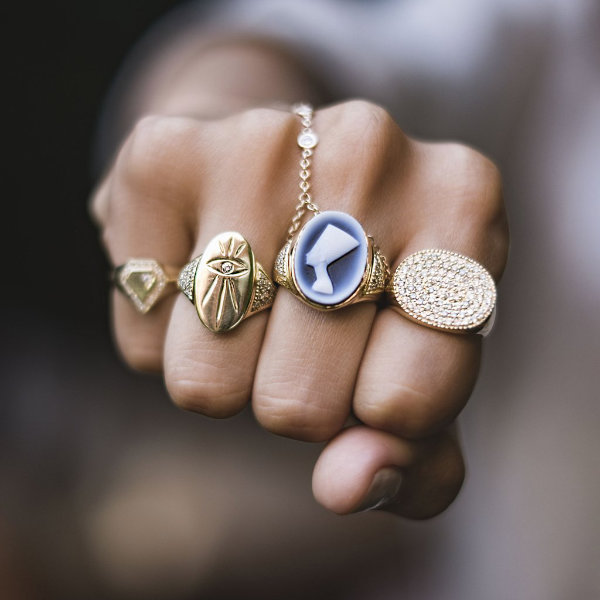 V-Day Gift List: The Love Grows for Cameos
Over the past three years, OBJ has posted three stories about cameo jewelry, and each time you've told us you want more. If you're cameo-obsessed (or know someone who is), chances are you're just as interested in reproduction cameos as you are inspired by the real thing. From authentic carved cameos of shell, carnelian, and onyx, to contemporary designs in resin, porcelain, or glass, these sculptural portraits are beloved for their beauty and individuality. They're also "having a moment" in these chaotic times as symbols of female empowerment and solidarity. Buy one for Valentine's Day!
Riri Loves Cameos
[easy-image-collage id=17950]
Fenty Cameo Jewelry by Rihanna @fenty
Three months ago, Rihanna launched an exclusive collection of cameo-style fashion jewelry under her popular Fenty label. Riri-watchers should not have been surprised; the global superstar and businesswoman had been wearing designer Jackie Aiche's black and white carved cameo rings for several years. Rihanna's modern cameo designs include rings, earrings, and pendants that double as brooches. Made of black resin and glass, they are all embellished in sparkling Swarovski crystals and pearls. According to Rihanna's spokesperson, her dramatic cameos are designed to honor "a new, more contemporary heroine." For more information, visit fenty.com.
Jennifer Behr Adds Bows
[easy-image-collage id=17952]
Top: Jennifer Behr's Guilia Portrait Crystal Earrings @moda operandi
Bottom Left: Claudia Gilded Cameo Earrings. Right: @jenniferbehr
Jennifer Behr is best known for her luxe hair accessories, a favorite go-to among Hollywood stylists. She also designs terrific earrings, including vintage-inspired cameo drops. Jennifer's cameo pieces incorporate her signature bow motif in sweet and sentimental styles. Her Claudia Gilded Cameo Earrings are described on Instagram as "future heirlooms." Wouldn't they look fabulous with tailored pantsuit and matching coat? Moda Operandi calls her Guilia Portrait Earrings with Swarovski crystals "a refined choice for eveningwear." Hand-made in New York City, Jennifer Behr's cameo earrings are available at Moda Operandi.
Cameo Cleaning Tip
[easy-image-collage id=17953]
Left: Cate Blanchett in Lizworks Cameos by Cindy Sherman @cateblanchett
Right: Connoisseurs Jewelry Wipes
To learn how to clean and care for authentic cameo jewelry, please click here. For cameo styles made of resin, glass, or metal, try Connoisseurs Jewelry Wipes in the bright red compact. They're perfect for V-Day and beyond!