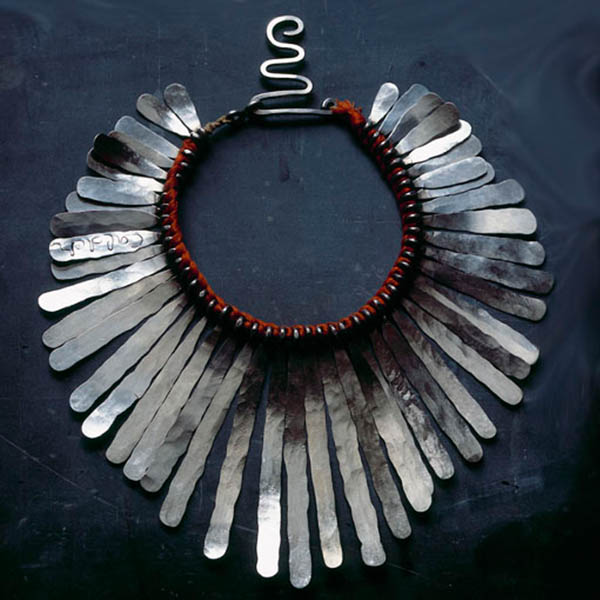 Wearable Art/Modern Masterpieces: Calder, Cameo Jewelry, and More
Here's a fall roundup of news from the art world of special interest to the jewelry obsessed. We bring you a must-see sculpture exhibit in NYC, a golden ode to an Austrian painter, and game-changing cameo jewelry by contemporary photographers.
It's going to be a sparkling season!
Alexander Calder Show at the Pace Gallery, NYC
[one_half]
[/one_half][one_half_last]
[/one_half_last]
To inaugurate its new 75,000-square-foot headquarters in Chelsea, New York, the renowned Pace Gallery has opened a major exhibition devoted to American sculptor Alexander Calder (1898-1976).
Alexander Calder was one of the most acclaimed and influential sculptors of the 20th century. He is known for his invention of wire sculpture—hailed by critics as "drawings in space"—and the mobile, a kinetic sculpture whose actual movement creates ever-changing compositions.
[one_half]
[/one_half][one_half_last]
[/one_half_last]
Calder also created a significant body of work in jewelry, which today is considered highly collectible "wearable art." His influence on modern-day jewelry designers cannot be overestimated.
Featuring 70 Calder works, the exhibition Small Sphere and Heavy Sphere will be on view through October 26, 2019. Sculptures and mobiles will be activated at 12:30 PM and 5:15 PM, Tuesday through Saturday. Don't miss it!
Ode to Gustav Klimt by Sylvie Corbelin
Parisian designer Sylvie Corbelin has created a one-of-a-kind gold ring in honor of Austrian painter Gustav Klimt (1862-1918). Her Paris Nocturne Klimt Ring is a highly decorative design that pays tribute to Klimt's Art Nouveau masterpiece, "Tree of Life."
Corbelin's ring centers on a large lacquered opal which reminded her of the tree in Klimt's famous painting. It is surrounded by some of her favorite gemstones.
According to jewelry trade magazine JCK, "The rectangular ring was fabricated in 18k yellow gold with sterling silver and features 71.35 cts. t.w. lacquered opals, 0.93 ct. t.w. emeralds, 3.2 cts. t.w. turquoise, and 1.15 cts. t.w. diamonds." It is listed on lyst.com for $53,000.
Cameo Jewelry by Contemporary Photographers
Liz Swig of LizWorks is a collector dedicated to "transforming the ordinary into the truly extraordinary." She collaborates with some of the world's most important contemporary artists. The results are "one-of-a-kind works of art that form new mediums" and shift perceptions among audiences, according to lizworks.net.
One of Swig's latest projects is a contemporary cameo jewelry collection designed in collaboration with esteemed photographers Cindy Sherman and Catherine Opie. Prices are available upon request through the LizWorks website.
[one_half]
[/one_half][one_half_last]
[/one_half_last]
[one_half]
[/one_half][one_half_last]
[/one_half_last]
These startling cameos are like no cameo jewelry you've seen before, and they're garnering rave reviews and celebrity fans. Cate Blanchett's statement cameo earrings by Cindy Sherman were all the buzz on the 2019 Venice Film Festival red carpet.
"Magic certainly comes to mind when viewing the enchanting new cameos created by the photographers Cindy Sherman and Catherine Opie, who worked with the New York-based collector Liz Swig on a new limited-edition series called "Cameo," said The New York Times.
Town & Country added, "They are both art and jewelry pieces. They are smart, funny, poignant, everything that you want all rolled up in these perfect miniature worlds."
Would you wear these avant-garde cameos? Or do you prefer more traditional motifs? For additional OBJ posts about cameo jewelry, please click here.