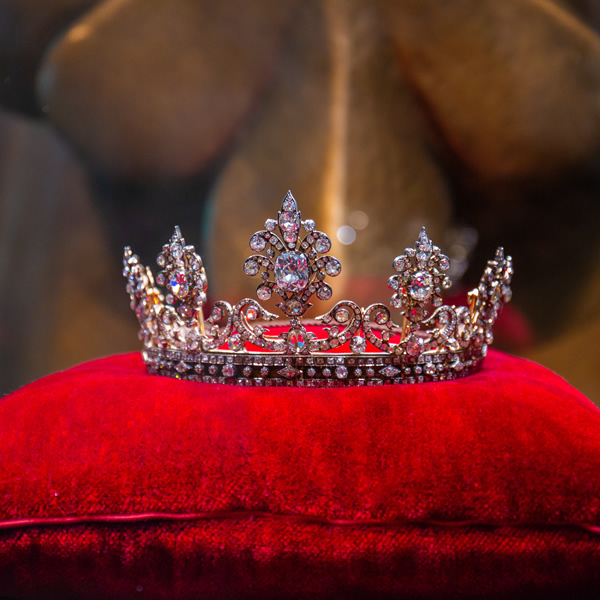 Summer Travel: See the Treasures from Chatsworth at Sotheby's NYC
If your summer plans include a stop in New York City, or if you're lucky enough to live there, check out a must-see exhibit at Sotheby's auction house that's guaranteed to satisfy even the most obsessed jewelry fan. Treasures from Chatsworth: The Exhibition features dozens of dazzling artworks and precious jewels from the famous English estate, Chatsworth House. The show includes masterworks of Victorian jewelry never before seen in the U.S. Don't miss it!
About Chatsworth House
Chatsworth House is located in the countryside of Derbyshire, England. It is the home of the Duke and Duchess of Devonshire and has been passed down through 16 generations of the Cavendish family.
If the manor house looks familiar to you, it might be because it has been used as the setting for several films, including Pride and Prejudice in 2005, and The Duchess in 2008.
The Chatsworth House's Devonshire Collection is one of the largest and most significant private art and jewelry collections in Britain.
About the Treasures from Chatsworth Exhibition
[one_half]
[/one_half]
[one_half_last]
[/one_half_last]
The star of Treasures from Chatsworth is an extraordinary parure, a set of seven jewels designed to be worn together, created in 1856 for the coronation of Tsar Alexander II.
These seven pieces include: a bandeau, bracelet, coronet, diadem, necklace, stomacher and comb.
Described by Sotheby's as "a masterpiece of Victorian Jewelry," the parure features 88 carved gemstones and cameos—created from ruby, sapphire, emerald, sardonyx, garnet, cornelian, amethyst, plasma, jacinth, onyx and lapis lazuli.
According to Sotheby's, some of these treasures belonged to the 2nd Duke of Devonshire's rare gem collection and date back to the ancient world.
The Devonshire set was commissioned by the 6th Duke of Devonshire and designed by C.F. Hancock in 1856 for Maria, Countess Granville.
She wore it to the Moscow celebration of Tsar Alexander II's coronation.
The Devonshire Tiara
Also included in the Treasures from Chatsworth exhibition at Sotheby's is the magnificent Devonshire Tiara. This diamond headpiece, which features sparkling palmettes, was created for the marriage of Lady Louisa Egerton, née Cavendish, daughter of the 7th Duke of Devonshire, in 1893.
It also was worn by the present Duchess Amanda at her wedding in 1967 and by her daughter, Lady Celina, at her wedding in 1995.
In addition to its usual function as a hair ornament, the Devonshire Tiara also can be worn as a necklace or divided into several brooches.
For More Information
Treasures from Chatsworth: The Exhibition runs through September 13 at Sotheby's, 1334 York Avenue, New York. It is open to the public free of charge.
To learn more about the exhibit please visit Sothebys.com.
Want more tiaras, pearls and precious jewels from British country estates? Stay tuned as OBJ previews Downton Abbey, a new film based on the TV series, to be released on September 20.
Can't wait!