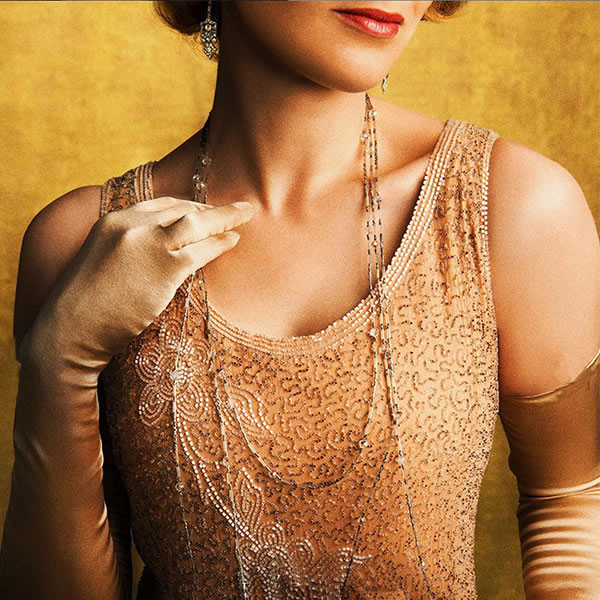 OBJ Weddings: Downton Abbey Jewelry Styles for 2020 Brides
Earlier this month I covered New York Bridal Fashion Week, and for relaxation I caught the Downton Abbey movie. Between the dazzling Fall 2020 wedding gowns and the Crawley women's sparkling jewels, I'm suffering from a serious case of sensory overload. So I thought it might be fun to marry the two ideas. Let's explore how Downton Abbey's jewelry and fashions will inspire brides of the brand new decade.
A Touch of the '20s
Wedding accessories designers are in love Downton Abbey's Victorian, Edwardian, and Art Deco influences. Everything old is new again! Set in 1927, the film features the Crawley sisters in beaded dresses (sometimes short) and jewels with an Art Deco edge.
Lady Mary wears her simple black-and-white tiara like a headband, while Lady Edith prefers her foliate band worn lower over the forehead, flapper style. Both sisters love long layered pearls and crystal necklaces with dangling earrings in geometric patterns.
Note: Thanks to the Downton effect and some recent royal nuptials, tiaras and headbands are among the most sought-after wedding accessories this year. Don't be shy, try one on!
Victorians and Edwardians
Violet Crawley, Dowager Countess of Grantham, was born in the Victorian era. She's rarely seen without her precious pearls and a good brooch. Lady Cora, the reigning Countess, alternates between Edwardian styles and the more modern looks her daughters favor.
This season, top wedding wear designers have embraced Victorian and Edwardian nuances for 2020 brides. Look for voluminous puff sleeves (once called Leg-O-Muttons) and vintage lace on the bodice and arms.
To capture estate jewelry luxe from these bygone eras, consider 3-armed Girandole earrings, chandeliers, or cameo drops. Pin a filigree brooch at the neck or in your hair for added retro flair.
Elegant Boho Brides
Ever the adventurous American, Lady Cora loves a touch of the Bohemian, including intricately embroidered tunics and lush evening robes. Elegant Boho capes and dusters in diaphanous fabrics appeared in some of the best Bridal Fashion Week collections.
When she's not wearing her tiara, Cora might don a knotted sautoir or a tassel necklace of amethyst or coral. Expect 2020 brides to reinterpret these 1920s jewelry styles, including pops of color and natural motifs.
The Downton Abbey Jewellery Collection
If you love the estate jewelry featured in the Downton Abbey movie as much as I do, check out the Downton Abbey Jewellery Collection from the 1928 Jewelry Company.  First inspired by the popular TV drama, this exclusive collection was created in collaboration with the show's costume design team in England through an exclusive licensing agreement.
From faithful reproduction earrings and necklaces to the bracelets, brooches and hair accessories, the Downton Abbey Jewellery Collection features authentic details and motifs from the late Victorian, early Edwardian, and 1920s eras. To see the entire collection visit 1928.com.
OBJ Weddings Tip: As Seen In ALLURE Magazine
Be sure to read ALLURE Beauty Editor Jessica Chia's article The Best Beauty Tips for Wedding Guests, According to a Seven-Time Bridesmaid.
Hint: See Tip #4: "Take a cleanser for your jewels," featuring Connoisseurs Precious Jewelry Cleaner.
Want to see more of our OBJ Weddings series? Please click here.