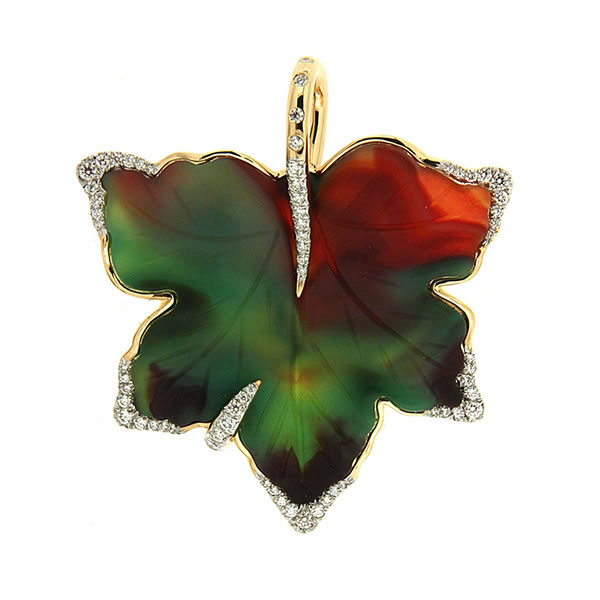 Leaf Peeping: Falling for Leaf Motif Jewelry
I love the early fall…that special season when the "frost is on the pumpkin" and everything turns orange, red and gold. At this time of year the jewelry collector in me hunts for pieces inspired by nature, including falling leaves, acorns, bundles of wheat, and baskets of fruit. Let's take a look at one of the jewelry world's most enduring styles: leaf motif jewelry…in all its colorful (and sometimes quirky) glory.
Brooches Are Back: Turn Over a New Leaf
If Sotheby's Senior V.P.  Frank Everett says #thebroochisback, I totally believe it! Everett's IG feed is an endless source of inspiration, featuring gorgeous bejeweled leaves, and more, from recent Fine Jewelry auctions.
I love a big leaf-shaped brooch pinned to a camel coat, a blazer, or a bucket hat for fall. Whether karat gold or gold-tone costume jewelry, these bold accessories can simply make an outfit.
Fun fact: Celebrity brooch fans include Angelina Jolie, who donned an elegant pin to accept an award in London last year. (She also wore a diamond scorpion brooch to her recent "Maleficent" premiere, but that's a story we'll save for Halloween.)
Leave Your Choker Outside Your T-Neck
This season, fashion is up to its proverbial neck in turtlenecks, be they flat knit, skinny ribbed, cashmere or mohair. Some stylists are showing short necklaces and chokers worn over the t-neck's rolled collar…a look first popularized in the 1970s.
Leaf-shaped necklaces work well with this emerging trend; their natural vine-like structure wraps around a bare or covered neck with equal effect. See designer Elsa Schiaparelli's colorful and highly collectible leaf necklace from the 1930s above.
More Leaf Motif Jewelry: Statement Earrings
Celebrate the falling leaves with dangling earrings in gold or silver and autumnal colors. Think citrine, quartz and topaz, real or faux, and the enameled styles that are so popular right now.
To find a vast array of collectible 20th and 21st century leaf motif jewelry, head to 1stDibs and Ruby Lane online. Want to see more leaf designs on OBJ? Please click here.