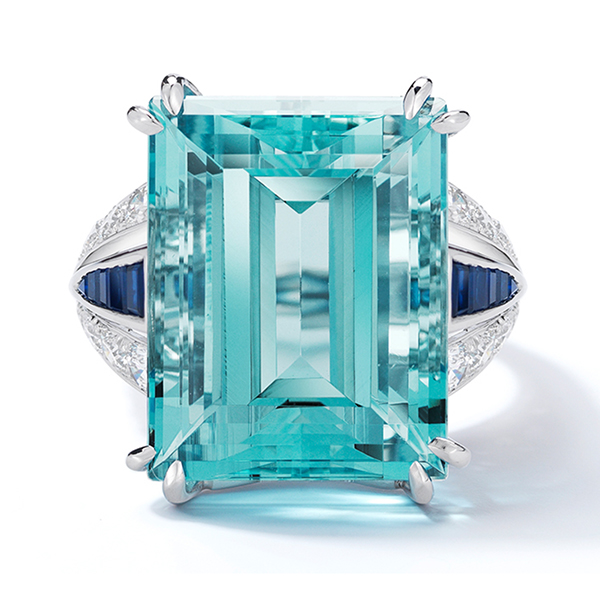 Keep Calm and Sparkle On: How to Clean Your Aquamarine Jewelry
Did you know that the March birthstone aquamarine is known to cool the temper, allowing the wearer to achieve calm and serenity? What a perfect gemstone for these turbulent times! Just the name "aquamarine" makes me relax; the cool blue-green color conjures up tropical islands and David Hockney-esque swimming pools. To help keep your aquamarines looking their sparkling best, let's explore how to clean aquamarine jewelry. I consulted with the experts at Connoisseurs…they always have great advice for the jewelry obsessed!
Dazzle Drops: Fresh Solution Every Time
Whether your aquamarine jewelry is set in platinum, gold or silver, Connoisseurs recommends Dazzle Drops Advanced Jewelry Cleaner. It's their non-toxic jewelry cleaner that makes fresh solution every time for the most effective cleaning. Here's how to use it:
Fill the cleansing container three-quarters full with warm water and drop 10 drops of the Advanced cleansing solution in the water.
Next, submerge your aquamarine jewelry in the jar of jewelry cleaner for a few minutes.
Remove the jewelry using the strainer and brush it gently using the specialized cleaning brush. Make sure you use the brush to clean under the stones and in between prongs.
Rinse your jewelry with warm water and dry with a lint-cloth. Discard the used liquid. Your jewelry will dazzle like the day you bought it!
Also Recommended: Trust the Red Jar
The folks at Connoisseurs tell me their Fine Jewelry Cleaner in the familiar red jar is their best-selling brand. According to Brand & Social Media Manager Kathy Elliot, "Year after year, the Red Jar ranks as the most recognizable and trusted jewelry cleaner among consumers, jewelers, and retailers. We're very proud to be the #1 jewelry cleaner in the world."
Connoisseurs Jewelry Wipes
After you clean your aquamarine jewelry with Dazzle Drops Advance or Fine Jewelry Cleaner, try Connoisseurs Jewelry Wipes in the portable red compact. Use these dry and disposable wipes to give your aquamarine pieces, and all your jewelry, a quick shine on the go.
March is Me Month: Buy Yourself a Bauble
Everyone at OBJ is proud to salute "March is Me Month." This exciting initiative was developed by the Women's Jewelry Association's Executive Leadership Forum, a group of top women executives across the jewelry and watch industries, to remind women to celebrate themselves with a fine jewelry self-purchase.
What's the takeaway message? Don't wait for a man to buy you what you want…march right out and buy it for yourself!
The "March is Me Month" campaign aligns with International Women's Day on March 8, 2020, and Women's History Month, March 2020. To read about three dazzling female pioneers in fine jewelry design, please click here.
Source: Main image and Ark Fine Jewelry earrings courtesy of National Jeweler