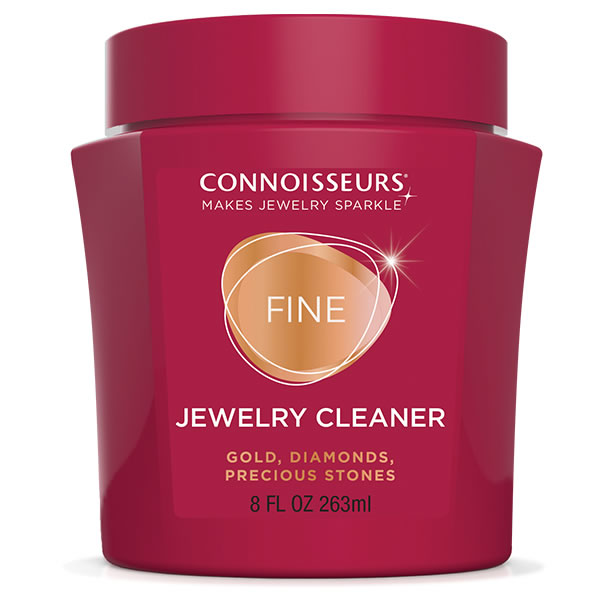 Connoisseurs Jewelry Cleaners: 5 Reasons To Trust The Red Jar
Affectionately known in jewelry circles as The Red Jar, Connoisseurs is the #1 selling brand of jewelry cleaning products worldwide. It's the jewelry cleaner preferred by millions of jewelry lovers in more than 60 nations from North America to Europe to Asia. Connoisseurs is not only the top choice among consumers, but also jewelers, retailers, and fashion/beauty editors alike. When it comes to keeping your jewelry sparkling clean, never settle for anything less than the best: Connoisseurs Jewelry Cleaners. Here are five good reasons to Trust The Red Jar.
HERITAGE
Need your jewelry to sparkle? We got this.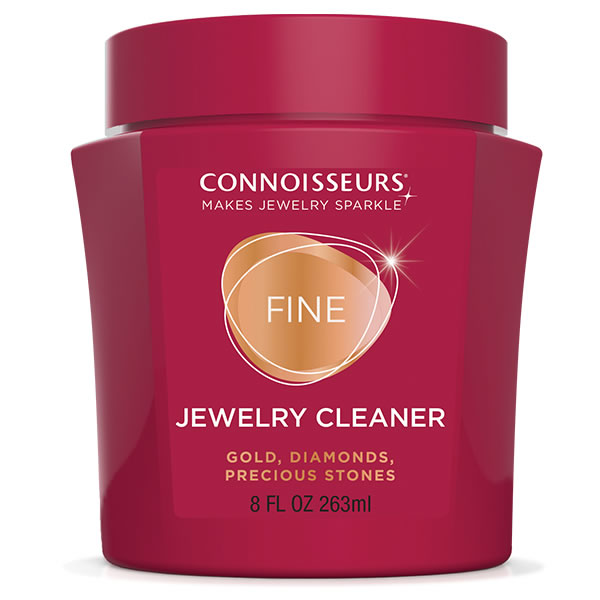 You might say The Red Jar is the OG of jewelry cleaners; it's been working its magic for more than 45 years. Over the decades, Connoisseurs cleaning products, formulas and delivery systems have been tested, retested and reformulated to perform to the highest quality standards in the market today.
"Longevity means a lot," said Kathy Elliott, Product & Social Media Manager of Connoisseurs Products Corp. "The Red Jar consistently ranks as the most recognizable and trusted jewelry cleaner among consumers, jewelers, and retailers. Every product has been time-tested and honed to peak performance. We're very proud to be the #1 jewelry cleaner in the world."
From its debut in 1974…to its three decades of the Good Housekeeping Seal…to its market dominance today, the iconic Red Jar has been emblematic of the finest in jewelry care for both precious and fashion jewelry…every piece in your jewelry wardrobe.
JEWELERS' CHOICE
Do what the pros do.
Connoisseurs is also the #1 choice of independent jewelers around the globe. Leading jewelers agree: if you're cleaning your jewelry at home it's wise to avoid homemade DIY methods found on the internet. Trust the safe, effective and professionally formulated jewelry cleaners with the highest standards of excellence: Trust The Red Jar.
"I've been using The Red Jar since the '80s because it's simply the best," said Gerard Riveron, private jeweler and former Dorfman Jewelers Executive Director. "I recommend it to all my clients and I personally know hundreds of jewelry-obsessed women who wouldn't think of using anything else!"
INNOVATION
Game-changing products and packaging
Connoisseurs has transformed the jewelry care industry with such breakthrough jewelry cleaning innovations as fan-favorite Diamond Dazzle Stik, and non-toxic Dazzle Drops Advanced Jewelry Cleaner and Dazzle Drops Silver Cleaner. Also designed to appeal to the green-clean tribe are new All Purpose Jewelry Cleansing Foam in the slim red dispenser, and dry, disposable Jewelry Wipes in the bright red compact. Both are travel ready and carry-on friendly.
Connoisseurs Jewelry Cleaners' award-winning packaging has the look and feel of high-end cosmetics and beauty-care products. That's because Connoisseurs views jewelry care as one of the daily rituals of every woman's get-ready routine. The Red Jar is most often found in the cosmetics, beauty, or jewelry departments of major retailers, and in the jewelry department at Walmart, Target, and Kohl's.
INFLUENCE
70 million BuzzFeed viewers can't be wrong.
Top fashion/beauty editors and bloggers frequently recommend The Red Jar in their magazines and websites. These fashion and lifestyle influencers recognize Connoisseurs' efficacy, worldwide leadership, and glittering style…and they pass that knowledge on to their millions of followers.
Recent editorials in Allure, BuzzFeed, and USA Today have all sung the praises of The Red Jar. The beauty editor of Allure, for instance, recommends packing a Red Jar of Connoisseurs Delicate Jewelry Cleaner whenever you're called on to be a bridesmaid (she's done it seven times!).
Connoisseurs is committed to its jewelry-loving community through its website, www.Connoisseurs.com, this weekly blog, Obsessed By Jewelry, and a strong presence on Facebook, YouTube, Twitter, Pinterest, and Instagram. Satisfied customers, prominent jewelry designers, and industry leaders comment on and "Like" The Red Jar with regularity.
AVAILABLE EVERYWHERE
Made in the USA
Virtually all Connoisseurs products are manufactured in the U.S. at the company's state-of-the-art facility in Woburn, Mass. With the help of the latest technology—and Connoisseurs' continuing commitment to innovation and excellence—the trusted Red Jar meets the most exacting quality control standards in the industry.
Connoisseurs is carried in tens of thousands of retail venues worldwide—independent jewelry stores, jewelry chains, department stores, specialty retailers, mass merchandisers, home shopping networks, catalogs, e-tailers, drugstores, drug chains, and supermarkets. In addition, Connoisseurs Jewelry Cleaners are available online at Walmart.com and Amazon.com.
So if you're looking for a safe, effective and time-tested jewelry cleaner to bring out the maximum sparkle in your jewelry, both fine and fashion jewelry, look for The Red Jar from Connoisseurs: Proud makers of the #1 most trusted jewelry cleaners in the world.
(And tell 'em OBJ sent you.)