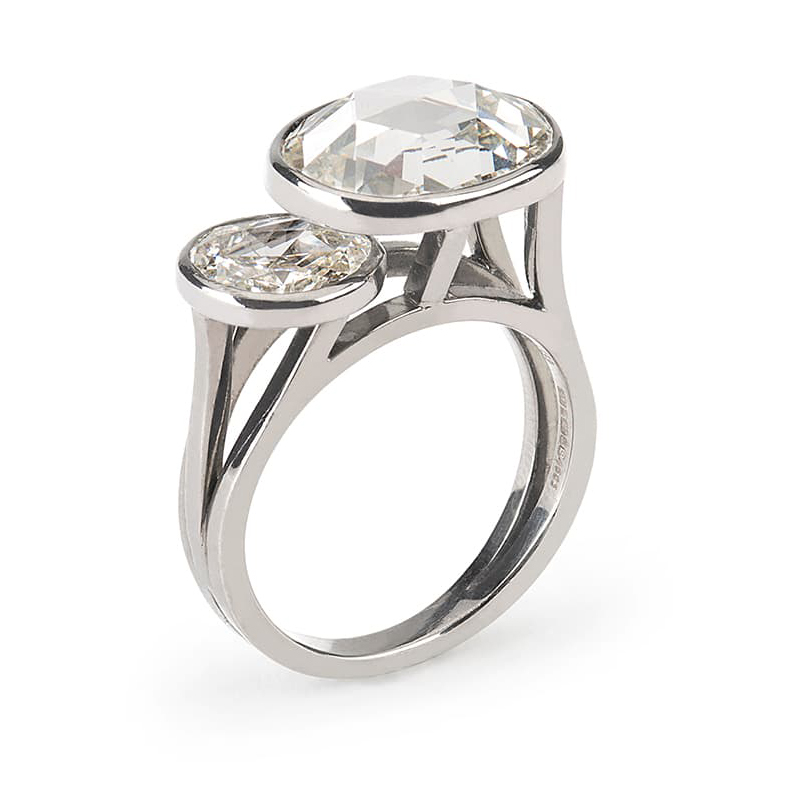 All About New 2020 Engagement Ring Styles
With Valentine's Day just a month away, our social media feeds are sparkling more than usual. Love is in the air as we head to V-Day, the grand finale of "official engagement season" (Thanksgiving through Feb. 14). To celebrate, I've rounded up some intriguing trends and predictions for 2020 engagement ring styles. By and large, they reflect a growing desire for personalization and customization…with a dash of celebrity influence for added dazzle.
More Elongated Shapes and Step Cuts
USA Today and Blue Nile are reporting that step-cut diamonds are "very much on trend." These include emerald cuts, baguettes, some cushions, and Asscher cuts. Initiated by J.Lo's engagement ring from Alex Rodriguez (March, 2019), the resurgence of emerald-cut diamonds overlaps with the move toward elongated diamond shapes in general.
Kathryn Money, VP of strategy and merchandising at Blue Nile, told USA Today: "There's just a long list of celebrities that have been opting for these elongated cuts…and they create a really flattering look…because it elongates the wearer's finger."
Offset Diamonds
Katerina Perez is one of the premier jewelry influencer/journalists in the business. Recently, she and her team predicted that offset diamonds will be a major trend this year in bridal jewelry.
KaterinaPerez.com features designer engagement rings that defy the tradition of the central diamond, citing styles by Fernando Jorge, NUUN Jewels, and Solange Asagury-Partridge. I especially love the opulent minimalism of NUUN's wide gold band and off-center diamond, and the glittering array of stones on Jorge's open band.
According to KP's co-editor Jodie Smith, Jorge "is tapping into the tastes of modern brides-to-be: unexpected, futuristic, and completely unique." What do you think of the offset diamond trend?
The Roaring 20s
One of the strongest influences on 2020 engagement ring styles is the centennial of the 1920s Art Deco era. Look for vintage and estate engagement rings on luxury sites such as 1stDibs, which reports a dramatic rise in sales for "anything Deco."
New rings with Art Deco-style elements are also trending. Think emeralds with tapered baguettes, and geometric shapes—especially triangles. The gorgeous Highland Ring from Katkim Fine Jewels is a good example. Featuring two trilliant-cut diamonds, it can be customized by diamond size and is available in yellow, white, or rose gold.
Colorless and Pastel Gemstones
Looking for a ring that no one else is wearing? Who What Wear recommends a budget-friendly alternative to diamonds: white sapphires. The durable white sapphire looks similar to diamond but it has a very different kind of radiance.
According to WWW, "These colorless gemstones are slightly lighter in color and emit more of a glow rather than a sparkle (a hallmark of traditional diamond rings). Best of all, they're incredibly affordable—you can find a stunning white sapphire ring for under $1000."
Another (relatively) affordable 2020 engagement ring trend involves pastel-colored gemstones. Top Australian jeweler Matthew Ely told Harper's Bazaar that many of his customers are moving away from traditional jewel tones to more feminine pastels.
"Morganites have gained a lot more popularity as they are heavily featured on social media," said Ely. (Be sure to see this OBJ Weddings post if you're 'thinking pink' engagement rings.)
Pearls…Yes, Pearls
For years, "the powers that be" have steered couples away from pearl engagement rings, warning that pearls are too delicate for long-term everyday wear. Hollywood stars Emma Stone and Michelle Williams might be changing all that, and I, for one, couldn't be happier.
These celebrity A-listers, who could well afford any ring they want, have lately joined the ranks of 21st century pearl girls. Pearls were the biggest jewelry phenomenon of 2019, dominating international runways and red carpets alike. The lustrous pearl ring is chic, sustainable, and here to stay…I've been wearing mine for decades!
Not Sure of Your Ring Size?
[dropshadowbox align="center" effect="horizontal-curve-bottom" width="60%" height="" background_color="#ffffff" border_width="1″ border_color="#e02670″ inside_shadow="false" ]
Check out the ingenious smartphone Ring Sizer created by our friends at BaubleBar. You will need your smartphone, a ring that fits you well, and a penny. Here's what to do:
–  Go to @BaubleBar Instagram on your phone.
–  Hit "Ring Sizer" in their Stories.
–  Follow the instructions to Screen Grab their Ring Sizer Screen and Find Your Size.
[/dropshadowbox]
Speaking of Easy and Rings… Discover the Diamond Dazzle Stik by Connoisseurs