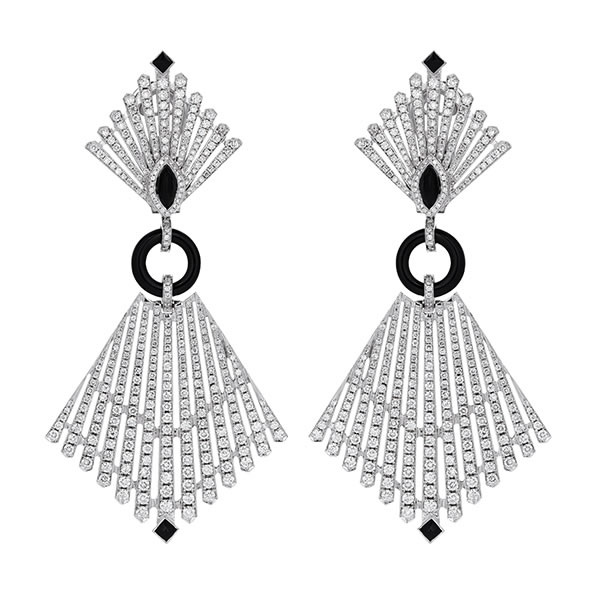 4 Fall 2019 Jewelry Trends You Don't Want to Miss
September is Fashion Month in New York, London, Milan, and Paris…when top designers present their Spring 2020 collections. However, if you're anything like me, you may still be getting your fall fashion act together. To help us out, here are four Fall 2019 jewelry trends our editors are recommending as must-haves this season. Happy shopping!
Black Tie & Art Deco Earrings
They'll be talking about Ralph Lauren's September 7 fashion show for years to come. Zigging while others zagged, the designer debuted his see-now/buy-now Fall '19 collection in the midst of Spring Fashion Week in New York.
Mr. Lauren transformed a staid Wall Street bank into "Ralph's Club," a dazzling 1920s-style supper club. But that's not all: He enlisted a jazz-hot band and the fabulous Janelle Monáe to entertain his A-list guests.
Everyone was asked to wear black or white formal attire…actress Cate Blanchett was among those who did not disappoint. A squad of It-Girls led by Gigi Hadid modeled sleek black tuxedo looks and slinky jewel-tone gowns.
Many of the Ralph's Club fashions were accessorized with cascading Art Deco earrings and crystal cuffs. Look for this new Fall 2019 jewelry trend to be all over town by the holidays.
Fringe Benefits: The Tassel Pendant Necklace
Autumn '19 runways at Givenchy, Joseph Altuzarra, and Tod's, to name a few, were up to here in leather and fringe.
Following suit, many of the best Fall '19 jewelry collections are totally tasseled!
The new season's power capes, coats and pantsuits call for statement necklaces that stand up to winter fabrics.
Put your daintiest gold necklaces aside for a while and invest in a bold tassel pendant necklace.
Wear it solo or make it the centerpiece of a layered look.
Study in Contrasts: Dark Florals/White Pearls
The fashion press has dubbed it "Dark Romance," the return of romantic, black-background florals and Liberty-like prints. Wear them with colorful tights like they showed at Rodarte, or chunky ankle boots to give them some swag.
For a cool contrast try stacking pearls and gold chokers like those above from Adeam…and add a whimsical pearl cocktail ring—or several.
I love the cocktail pinky rings at Valentino, so stunning with their V-logo bags.
Utility Chic: Safety Pins & HardWear
Fall's new jumpsuits have brand new names: utility coveralls and boilersuits, borrowed from the boys. Zippered or buttoned, these one-piece wonders will take you anywhere you need to go this season.
Try wearing one with a trench coat for a military vibe…then add  a piece from Tiffany & Co.'s HardWear Collection.
Or go punk with utilitarian safety pin jewelry, as seen on Ciara in Versace (above).
Your Fall 2019 Jewelry Trends Need TLC
The new fashion season is the perfect time to give all your jewelry a thorough at-home cleaning. I recommend new All Purpose Jewelry Cleansing Foam from Connoisseurs.
Quick and easy to use, Jewelry Cleansing Foam is strong enough for diamonds and gemstones, gentle enough for pearls and costume jewelry.
And if you'd like to explore more safety pin jewelry, click here for past articles from OBJ.