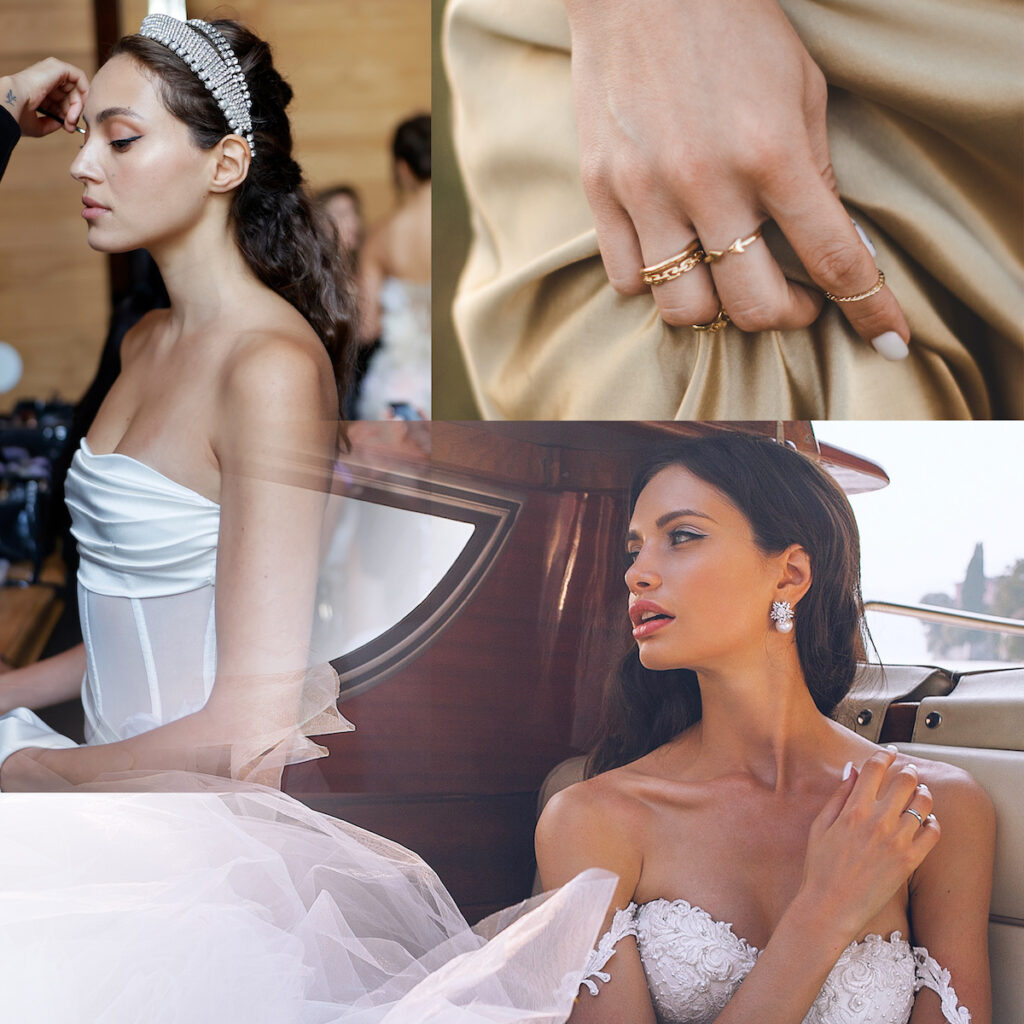 These Jewelry Trends from Bridal Fashion Week Will Be Popular in 2024
From floral earrings to ornate tiaras, more is more when it comes to 2024 bridal jewelry trends.
The style of your wedding should reflect your aesthetic, design style, and represent who you are as a couple. Having said that, bridal trends can deeply influence your choices when it comes to what to wear and how to accessorize your look from head-to-toe. This October marked Bridal Fashion Week in New York, where designers showcased their fall 2024 collections unveiling the latest market trends giving brides-to-be plenty of bold design options. Ahead, find a style watch of 2024 bridal trends straight from the runway.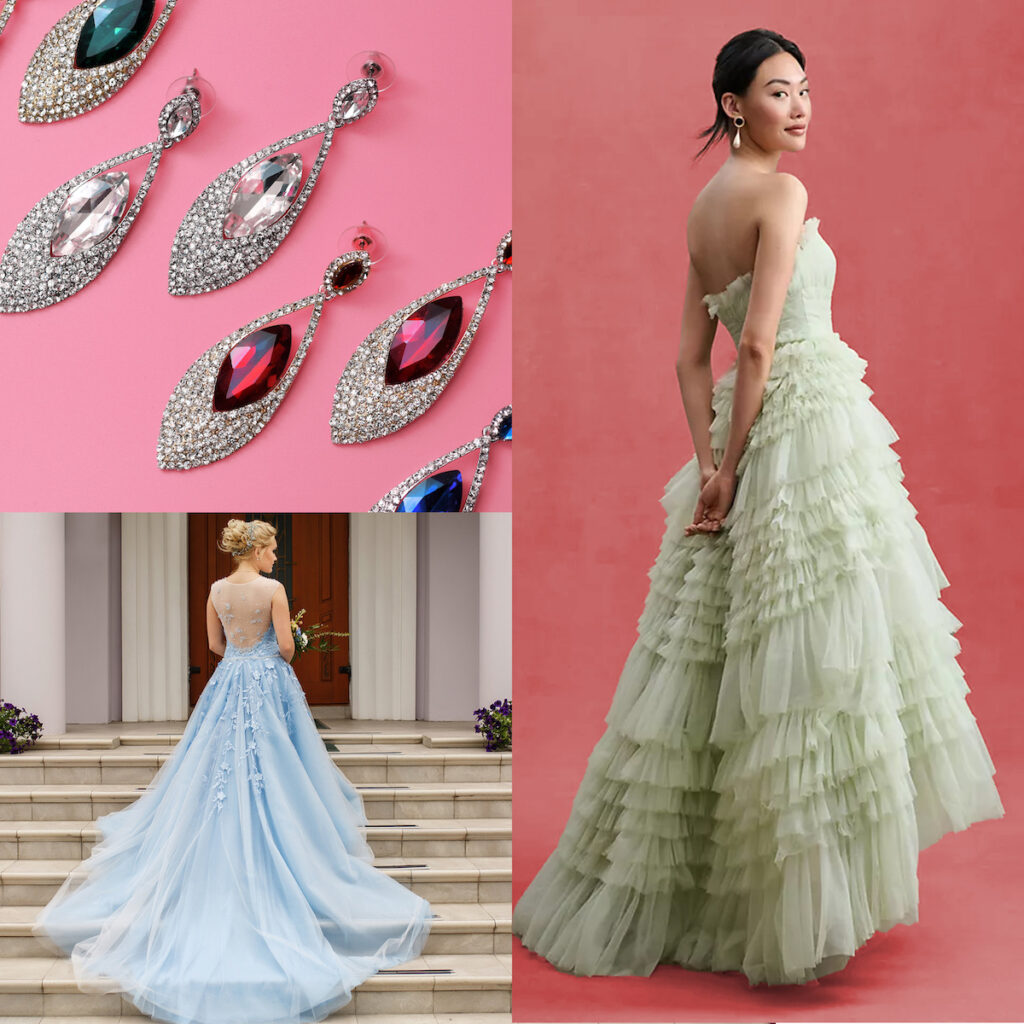 Pops of Color
When you walk down the aisle, you don't always have to do it in white. Tradition has given way to a new crop of designer bridal traditions marked by pastel and jewel-toned dresses. Designs in black were also a trend to watch for the daring and gothic bride—and although these gowns aren't new per se, they are rising in popularity. If a colorful gown hue isn't for you, you can incorporate this trend into your bridal aesthetic by opting for colorful jewels. Pearls and diamonds are a mainstay of bridal jewelry looks, but think beyond these choices with bright rubies, sparkling emeralds, and romantic amethyst gems. Talk about a statement jewel.
Style Watch: The BHLDN Leila Satin Charmeuse Maxi Dress is oh-so-wearable for a lush bridal choice. We also love the Mac Duggal Tiered Strapless Tulle A-Line High-Low Gown for a whimsical and fairy-inspired pop of color.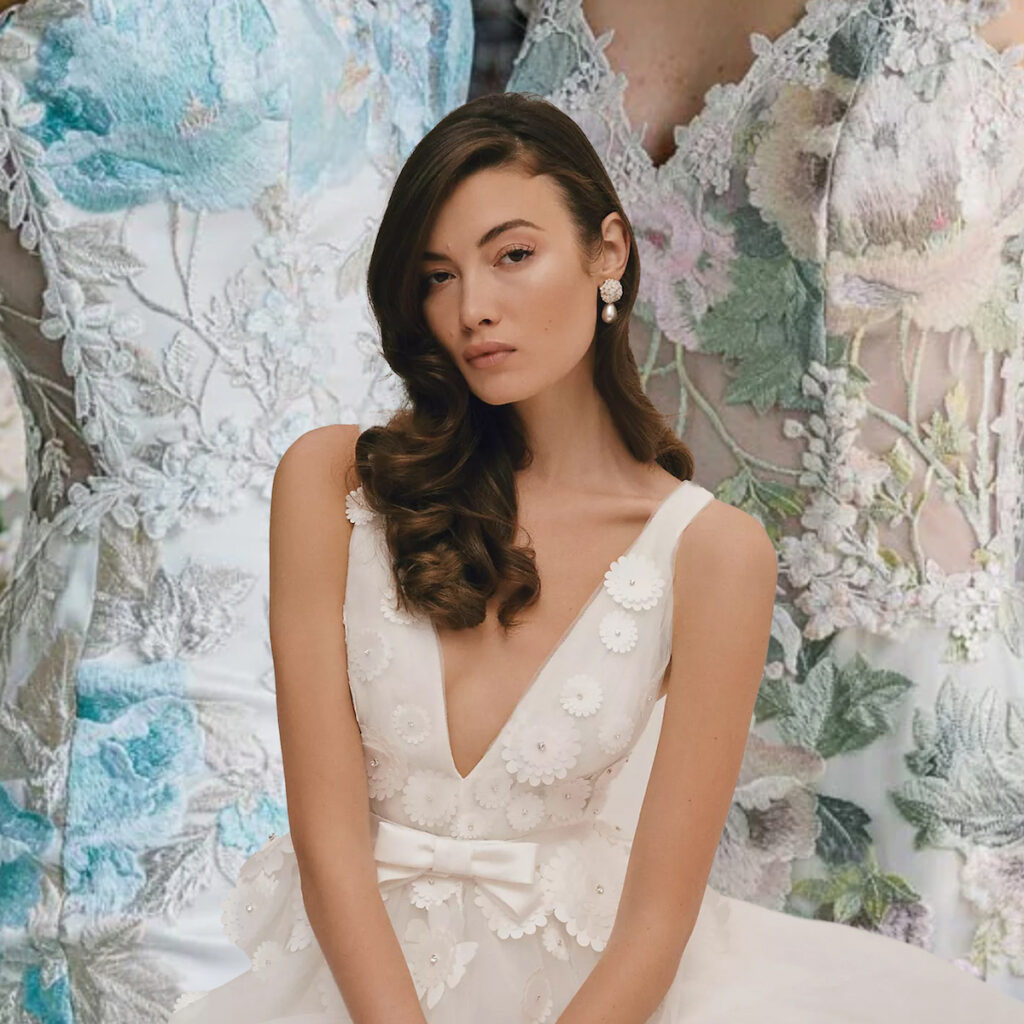 Floral Accents
No need to save florals for the bouquet. Floral earrings made a big statement at the bridal shows—and are a natural choice for spring or summer garden nuptials. We spied flower-shaped studs as well as grandiose floral chandeliers. These choices help incorporate color into your earscape, and your bridal jewelry look, while still maintaining a modest and traditional aesthetic.
Style Watch: We loved the floral off-shoulder details at Badgley Mischka Bride, and the fairy-inspired floral whimsy at Claire Pettibone. Dana Harel presented an entire collection inspired by Monet's "Poppies."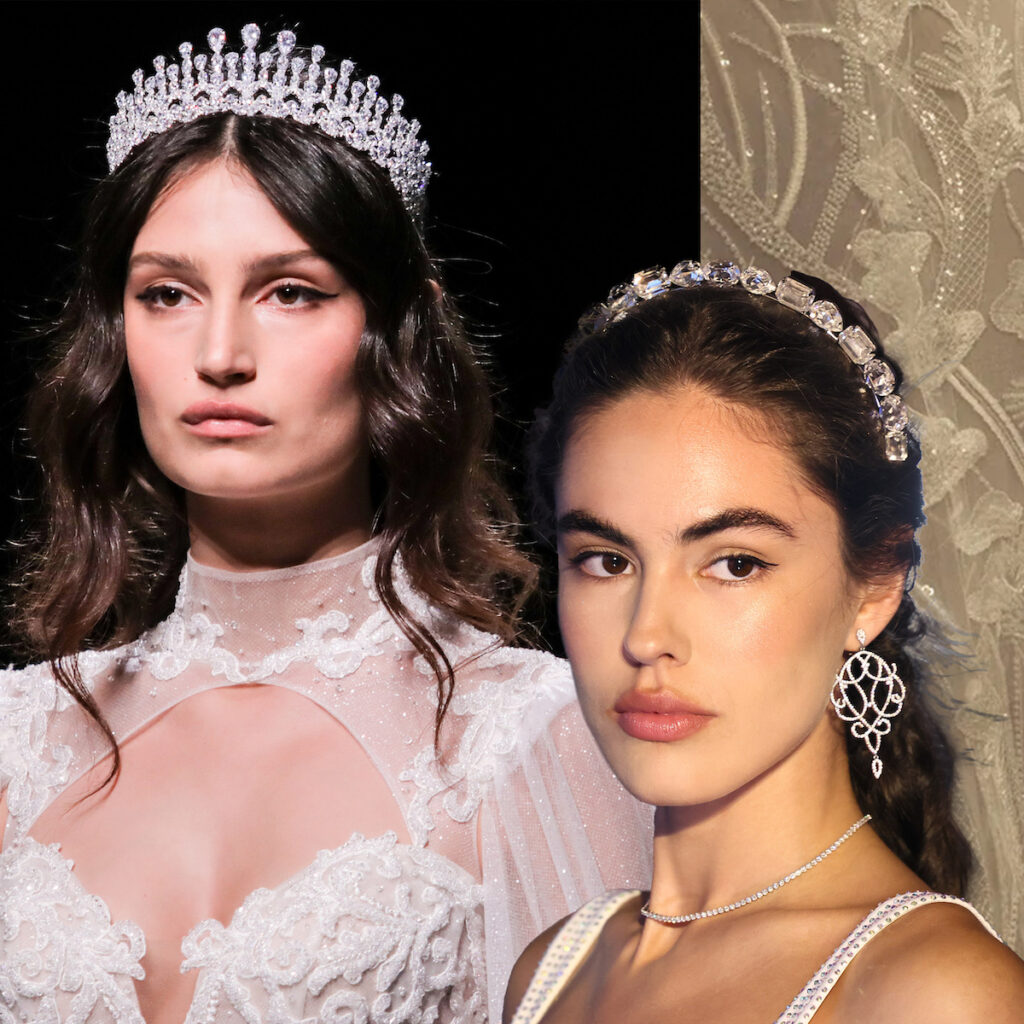 Princess Tiaras 
Headpieces convey a deep romanticism and royal sensibility and accessorize beyond the veil. Tiaras are also a reenvisioning of the princess trope in bridal, and can capture a more modern take on the adventure that is marriage, making this trend wearable for the contemporary bride.
Style Watch: The ultimate femininity was the inspiration behind Francesca Miranda's bridal collection that were as bold as they were romantic. Viktor & Rolf Mariage created sculptural headpieces adorned with flowers, while glittering beads were the crown jewels on the tiaras for the Nardos collection.
Key to any bridal look is a sparkling diamond—whether that's your engagement ring, or a jewel in your headpiece.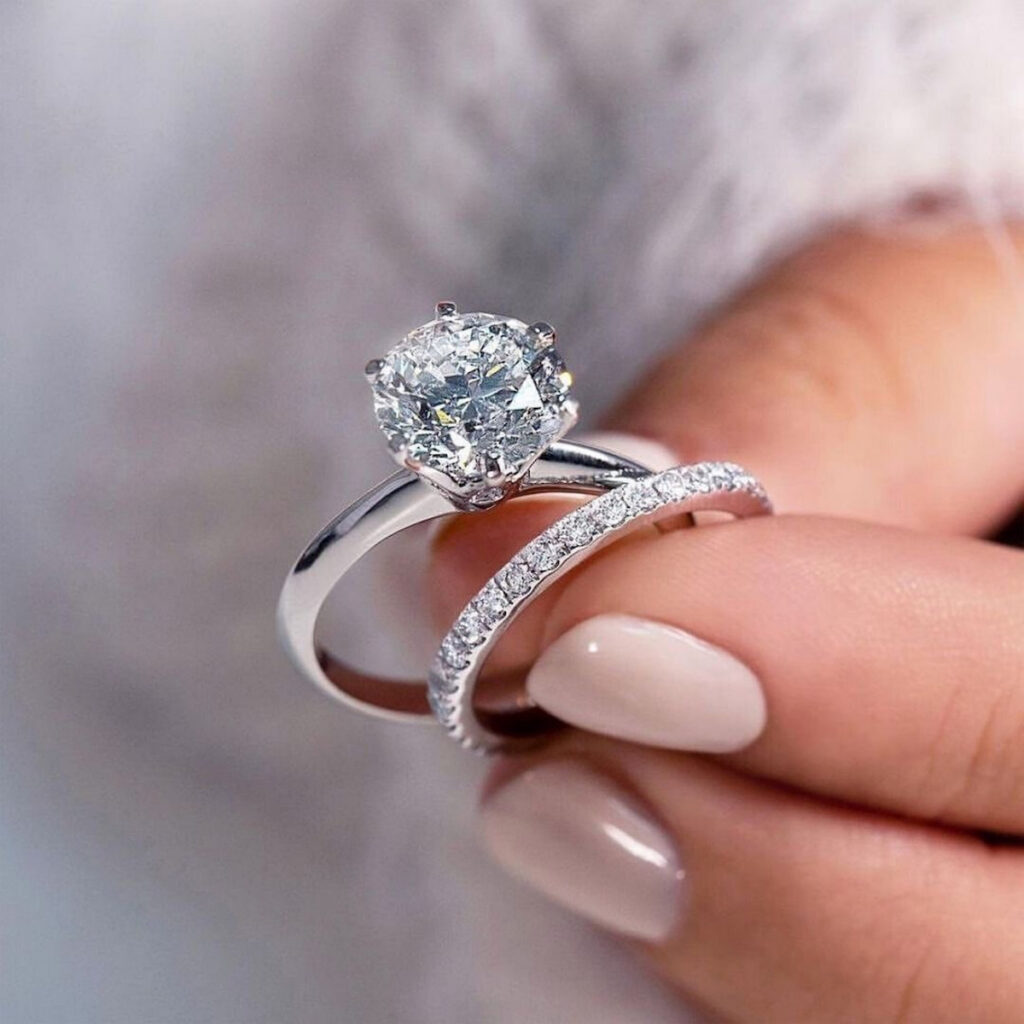 Connoisseurs Jewelry Cleaning Products for the Entire Bridal Party
We recommend the Diamond Dazzle Stik (so convenient, we even suggest keeping it in your bridal purse to give your diamond a touch-up before photos). Prior to the big day, we suggest a dip in the Fine Jewelry Cleaner for the ultimate care in diamond engagement rings.
To keep wedding bands as pure as can be, we recommend Connoisseurs Jewelry Wipes—groomsmen, here's your big moment to shine—break out a pack of these for a last minute swipe. We promise the couple will thank you for adding a 24 karat shine to the occasion.
When it comes to keeping your bridal party's jewelry as fresh as can be, we suggest Delicate Jewelry Cleaner and/or Dazzle Drops Advanced Jewelry Cleaner for delicate jewelry like pearls, crystals, or costume jewelry. Go ahead and keep on hand in the bridal suite or use for guest gifting. This practical gesture will help your entire party dazzle.
There's always more to discover...