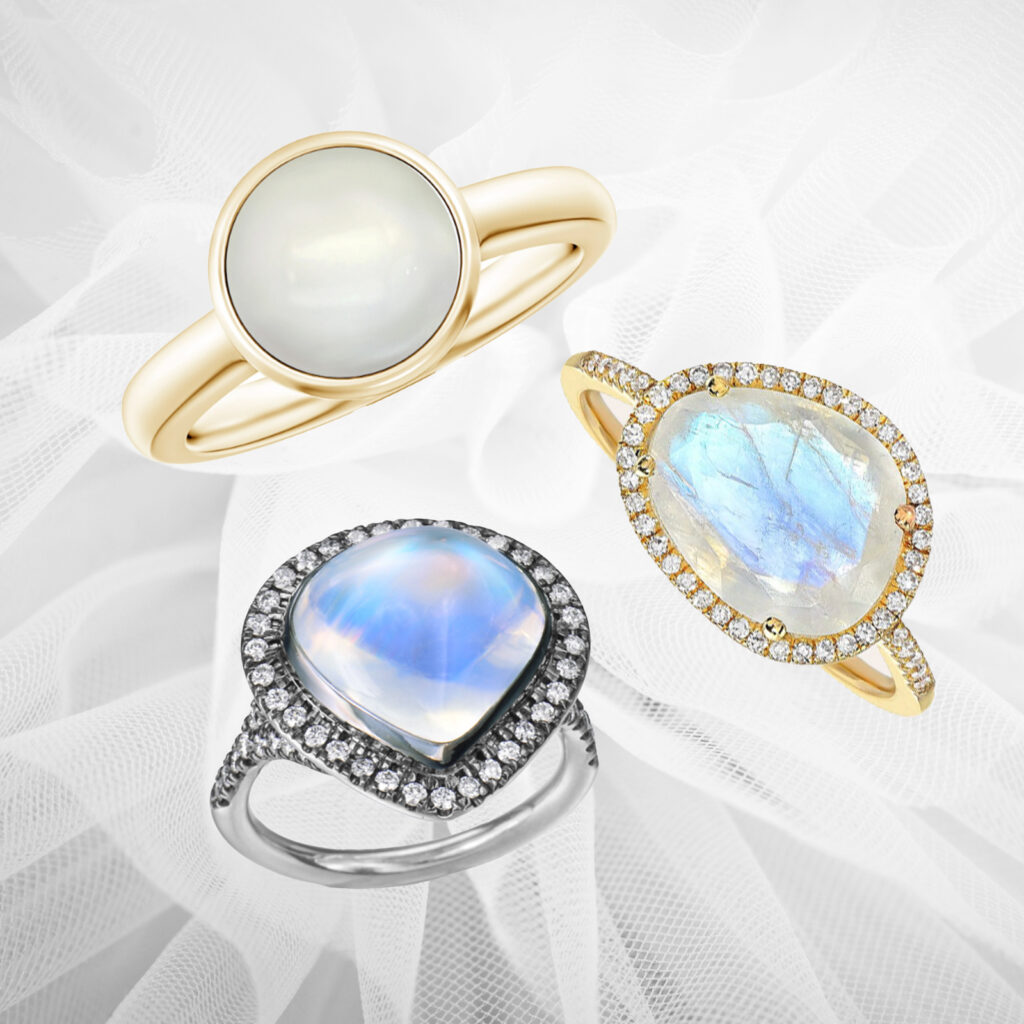 This Valentine's Day, Give a Moonstone Engagement Ring
The glowing stone is on trend as 2023 embraces an airy, ethereal aesthetic
Giving jewelry makes a statement, and not just aesthetically speaking. It can signify a relationship, romantic, or otherwise. Rings are, generally speaking, gifts that are indicative of a serious romantic relationship, while lockets can be meaningful for best friends. From huggie hoops to a cameo brooch, jewelry makes the wearer feel special and adored, as all jewelry is adornment, as opposed to a more utilitarian gift.
When it comes to style, ethereal, airy, and feminine touches not only rule the runway in 2023, but they are also guiding consumer habits. At a recent press conference for Pinterest Predicts, where the platform announced their research-driven predictions on 2023's hottest trends, an ethereal and airy aesthetic rules supreme. "2023 fashion will be filled with lace, tulle, ruffles, and shimmer," notes the Pinterest Predicts 2023 style report. "It's ethereal details for all."
Embracing the new ethereal is a moonstone engagement ring, a creative and bohemian alternative to the classic diamond. For lovers looking to cement their relationship with a Valentine's engagement, the moonstone engagement ring is a choice option that's de rigueur.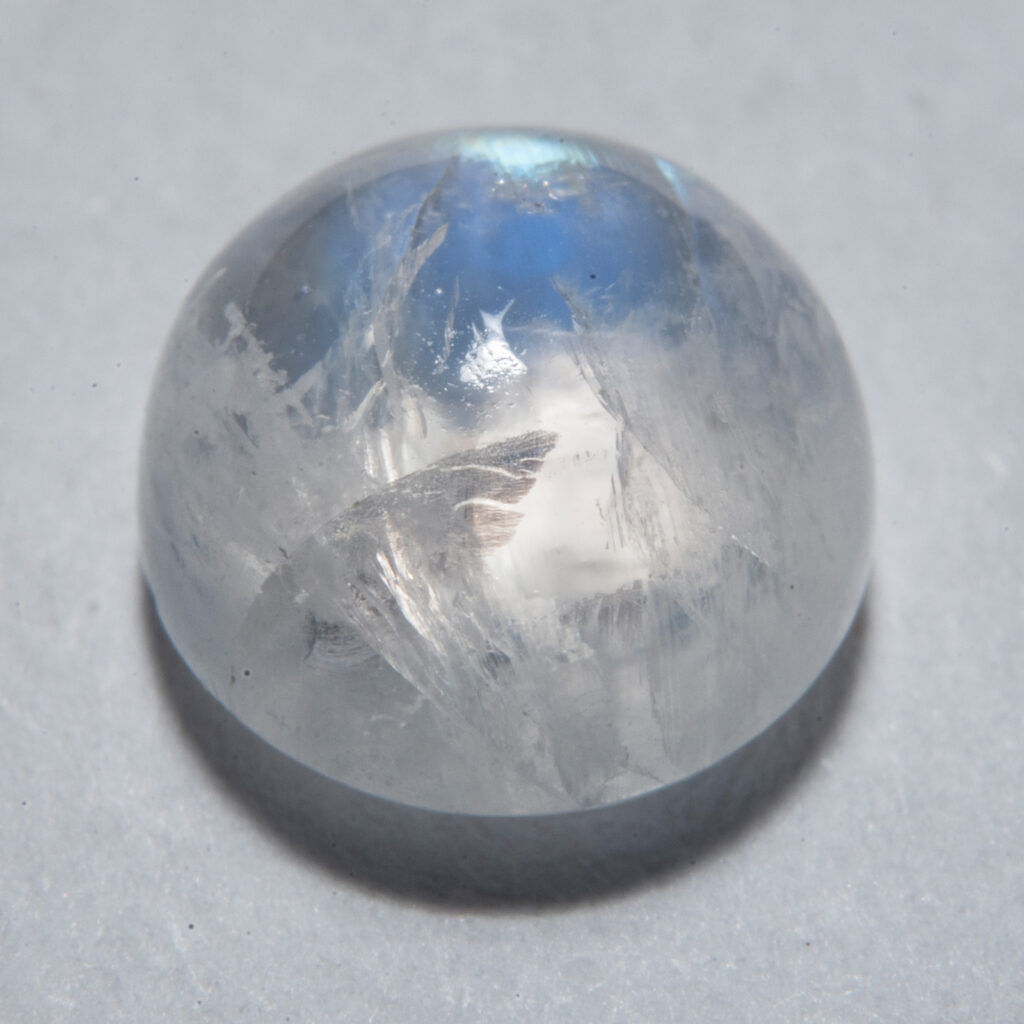 What Is Moonstone?
Moonstone is a mineral in the feldspar group and is composed of potassium aluminum silicate. It is distinguished by the presence of adularescence—an optical phenomenon that causes an extraordinary glow on the surface of the stone.
It is often said that light moves across moonstone much like moonlight would glide across a large body of water. This happens because light reflects off layers of different feldspar minerals within moonstone. The layers act to diffuse and soften the light, allowing it to "float" around the stone.
The Meaning Behind Moonstone
Ancient cultures treasured moonstones and many believed they were actually created from moonbeams! To this day, many people attribute mystical properties to the moonstone, especially during a full moon.
Moonstone is thought to bring its wearers good luck and feelings of love and affection.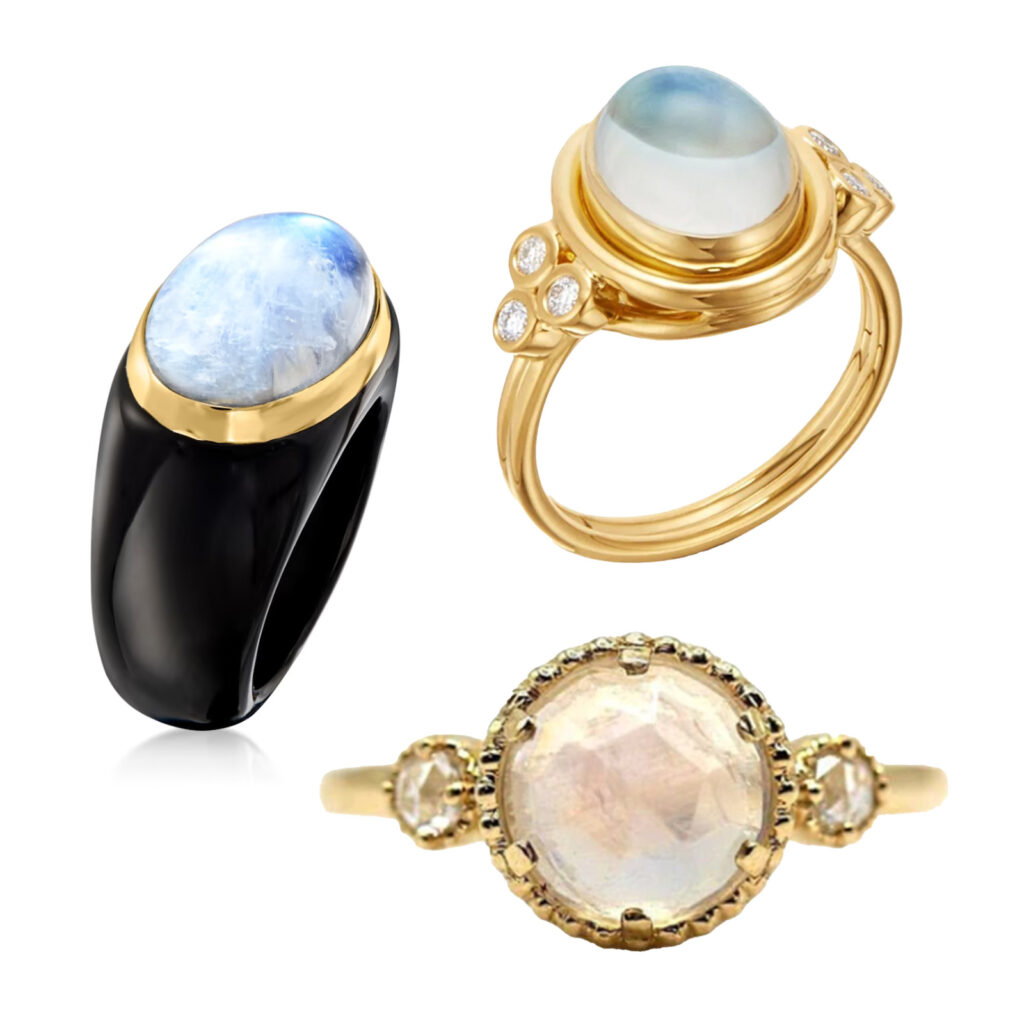 How to Clean Your Moonstone Engagement Ring
Moonstone scores between 6 and 6.5 on the Moh's Scale of Mineral Hardness (rankings from 1 to 10), so it is softer than diamond and sapphire, but not as delicate as opal or pearl. Some designers like to use a bezel or another deep setting to prevent the stone from trauma.
To clean your moonstone ring, use Connoisseurs Advanced Dazzle Drops: Just Squeeze, Dip and Dazzle! Includes enough solution for more than 80 (10-drop) cleanings, an easy-to-use dipping scoop, and a grip-easy cleansing brush designed to clean all jewelry surfaces. 
OR
To clean your moonstone ring, use Connoisseurs Delicate Jewelry Cleaner: This ammonia-free formula gently cleans and revives the brilliance in all your "handle with care" pieces. 
Either option will keep your moonstone ring as sparkling as the day it was purchased. Discover the best way to clean your moonstone jewelry.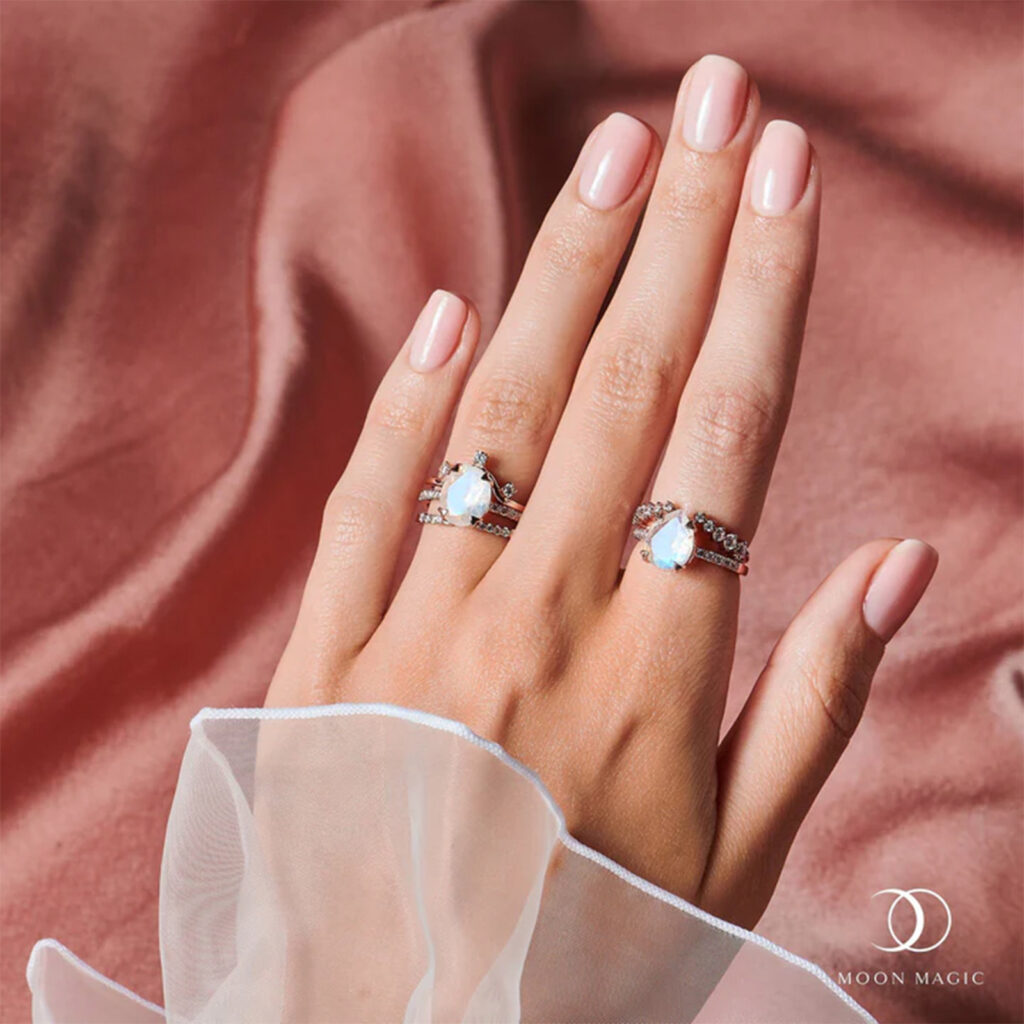 Moonstone Engagement Rings Are Affordable
A recent survey by TD Ameritrade has revealed that Gen Z couples are demanding more affordable engagement rings, specifically rings under $2,500.
The metal used most often to set moonstone jewelry is sterling silver, because it's inexpensive and it beautifully reflects the unusual color of the stone. To clean jewelry set in silver, use the Connoisseurs Dazzle Drops Silver Jewelry Cleansing Crème. The easy-to-use dipping scoop comes with a brush designed to clean all jewelry surfaces and a clear rinsing container.
Gold, however, remains to a classic when it comes setting engagement rings, and makes an ideal setting for a moonstone engagement ring. Yellow and rose gold will reflect a brilliant sheen of the moonstone, adding colorful sparkle that gives a major ethereal look.
When cleaning jewelry, it's important to consider the setting, and not just the stone. To clean jewelry set in gold, use the Connoisseurs Fine Jewelry Cleaner, which is safe for gold, platinum, diamonds, and precious stone jewelry. 
If you're shopping for an affordable, alternative engagement ring, consider one with a unique ethereal glow. It's a guaranteed hit for Valentine's Day 2023.
Featured Image | Moonstone Rings from the top clockwise: Angara, Zoe Lev, Turgeon Raine.
There's always more to discover...