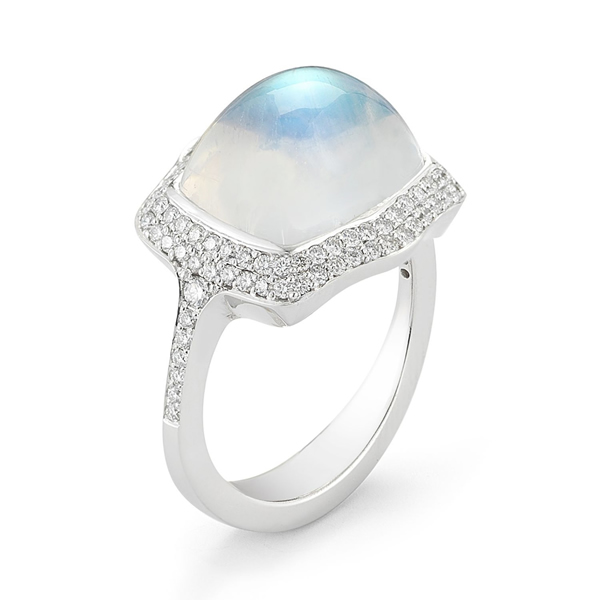 Moonstruck? Consider a Shimmering Moonstone Engagement Ring
This is the seventh post in our monthly series, OBJ Weddings.
Let's face it: we're all a little moonstruck this summer. As the nation celebrates the 50th anniversary of the Apollo 11 Lunar Landing (July 20, 1969), all eyes are on the moon…what a glorious achievement that landing was! I'm sure our current lunar obsession has something to do with the recent rise in popularity of moonstone jewelry in general, and rings in particular. So in this chapter of OBJ Weddings I'm exploring some stunning and affordable moonstone engagement rings. Come on along for the ride!
Moonglow: The Mysterious Allure of a Moonstone Engagement Ring
[one_half]
[/one_half][one_half_last]
[/one_half_last]
Moonstone is a mineral in the feldspar group and is composed of potassium aluminum silicate. It is distinguished by the presence of adularescence—an optical phenomenon that causes an extraordinary glow on the surface of the stone.
It is often said that light moves across moonstone much like moonlight would glide across a large body of water. This happens because light reflects off layers of different feldspar minerals within moonstone. The layers act to diffuse and soften the light, allowing it to "float" around the stone.
The Meaning Behind Moonstone
[one_third]
[/one_third][one_third]
[/one_third][one_third_last]
[/one_third_last]
Ancient cultures treasured moonstones and many believed they were actually created from moonbeams! To this day, many people attribute mystical properties to the moonstone, especially during a full moon.
Moonstone is thought to bring its wearers good luck and feelings of love and affection. So it's a natural choice for an engagement ring, and the "alternative engagement ring" that so many couples are searching for these days.
Their reasons are complex: some admire moonstone for its spiritual qualities, while others appreciate that it is an affordable alternative to diamonds and precious gems.
I believe moonstone is a dynamic, one-of-a kind engagement ring choice whose alluring luminosity puts it in a class by itself.
Caring for Your Moonstone Engagement Ring
[one_half]
[/one_half][one_half_last]
[/one_half_last]
Moonstone scores between 6 and 6.5 on the Moh's Scale of Mineral Hardness (rankings from 1 to 10), so it is softer than diamond and sapphire, but not as delicate as opal or pearl. Some designers like to use a bezel or another deep setting to prevent the stone from trauma.
To clean your moonstone ring, I recommend Connoisseurs Advanced Dazzle Drops or Delicate Jewelry Cleaner to keep it as sparkling as the day it was purchased.
Want to learn more about the care of moonstone jewelry? Please click here.
Moonstone Engagement Rings Are Affordable
[one_half]
[/one_half][one_half_last]
[/one_half_last]
A recent survey by TD Ameritrade has revealed that Millennial and Gen Z couples are demanding more affordable engagement rings…specifically rings under $2,500. As you might expect, many young couples saddled with student debt prefer to earmark their wedding savings for the honeymoon and other "experiential" rewards, rather than an expensive and traditional diamond ring.
The metal used most often to set moonstone jewelry is sterling silver, because it's inexpensive and it beautifully reflects the unusual color of the stone.
However, jewelers report that people are gravitating to gold, the more precious metal, for their moonstone engagement rings.
Several of the styles I love in this post come in yellow, rose and even white gold, and still they fall under the $2,500 mark.
So if you're shopping for an affordable, alternative engagement ring, consider one with a unique ethereal glow.
Just reflect on the moon…and choose a mysterious, magical, mesmerizing moonstone!
Here's What Bride's Magazine Has to Say About Moonstones
[one_half]
[/one_half][one_half_last]
[/one_half_last]
"Known for having calming and balancing energies, moonstone comes with a gorgeous iridescent sheen, and is seeing an upsurge in popularity in jewelry with a bohemian appeal. They're associated with lunar mystery and magic and have been used to treat insomnia, sleepwalking, ward off nightmares, and promote vivid dreams. Impressive! Not to mention, a moonstone engagement ring totally reminds us of our beloved childhood mood rings. Admit it, you totally had one."
Learn more about moonstone jewelry and the remarkable properties of moonstones.


Sources: nationaljeweler.com; brides.com