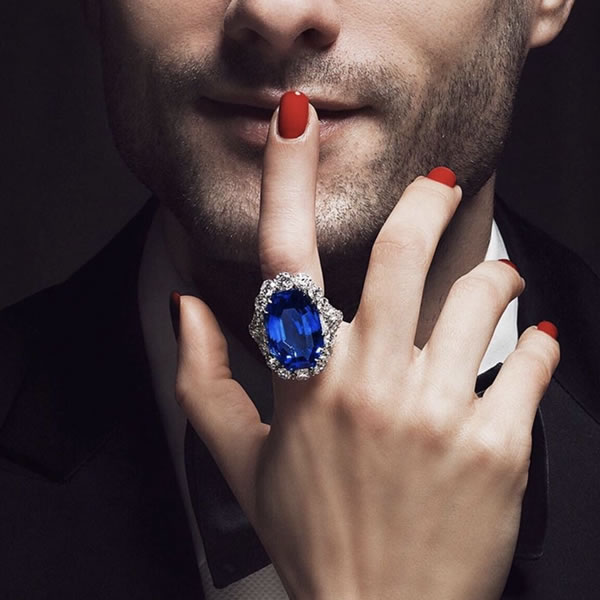 A Guide to Cleaning Sapphires: Keep September's Birthstone Sparkling!
Happy Birthday to all you September-born OBJ fans! Sapphire is my sister's birthstone, so I take a special interest in this beautiful gemstone at this time of year. Although sapphire comes in a wide variety of colors, I always gravitate towards brilliant blue. Birthstone or not, sapphire is one of the most popular gemstones in the realm of fine jewelry. To keep yours sparking like new, here's a handy guide to cleaning sapphires…brought to you by Connoisseurs.
Caring for Sapphires
[one_half]
[/one_half][one_half_last]
[/one_half_last]
In addition to its natural beauty, sapphire is beloved for its durability. Second only to diamond on the Mohs Mineral Hardness Scale, sapphire scores 9 out of a possible 10. That's one good reason it is so often chosen for engagement rings.
Due to its hardness sapphire is fairly immune to most scratches, but sapphire rings and all sapphire jewelry will collect dirt and grime from everyday life. Major culprits include lotions, hairsprays, sunscreens, perfumes, makeup, sand, salt, and more.
[one_half]
[/one_half][one_half_last]
[/one_half_last]
Frequent cleaning at home with a professional formula will make all the difference in the life of your sapphire jewelry. I use the Connoisseurs brand, made in the USA, because it's the #1 choice of consumers, fine jewelers, and retailers alike. And because it works!
Cleaning Sapphires Like the Pros
The best way to keep your sapphires gleaming is to clean them with Connoisseurs Dazzle Drops Advanced Jewelry Cleaner:
Dispense 10 Dazzle Drops into the Connoisseurs cleansing container (included), filled with water.
Immerse your jewelry using the dipping scoop and use the small bristle brush (both are provided) to clean between prongs and crevices.
Rinse with lukewarm water and dry with a lint-free cloth.
A popular alternative to cleaning sapphires with Dazzle Drops is Connoisseurs Precious Jewelry Cleaner in the familiar red jar.
Designed for gold, platinum, diamond, and precious gemstone jewelry, this formula has special polymers to help reduce the appearance of tiny scratches in settings.
In a Hurry? Try New Jewelry Cleansing Foam
I just tried a brand new product that's strong enough for cleaning sapphires and diamonds, yet gentle enough for pearls and costume jewelry. Connoisseurs All Purpose Jewelry Cleansing Foam literally melts away dirt and residue in no time to make your sapphires sparkle like new.
It's so easy to use…here's how:
Apply Jewelry Cleansing Foam directly onto your jewelry.
Let it soak for 30 to 60 seconds.
If needed, work into difficult places with a soft brush.
Rinse thoroughly with warm water and towel dry.
Around the OBJ offices we've given this safe and gentle jewelry cleaner the friendly nickname "Foamy." And here's more good news: Foamy is non-toxic, biodegradable, and small enough to fit in your carry-on bag.
Cleaning Sapphires On the Go
[one_half]
[/one_half][one_half_last]
[/one_half_last]
Speaking of travel, did you know that fan-favorite Connoisseurs Diamond Dazzle Stik is not for diamonds only? I stow these handy mascara-sized cleaning pens in my handbag and cosmetics case to keep my sapphire eternity ring and all my gemstone jewelry dazzling on the road.
Just twist the Diamond Dazzle Stik until the blue gel is dispensed on the brush and clean gently between prongs and stones.
Then rinse your jewelry in lukewarm water, dry with a lint-free cloth, and go!
No wonder USA Today included the Connoisseurs Diamond Dazzle Stik in its recent article, "20 Hidden Gems You Can Find on Amazon for Under $10."
To read the entire story, please click here.
Royal Blue
[one_half]
[/one_half][one_half_last]
[/one_half_last]
The most famous sapphire engagement ring in the world is the one Prince Charles gave Lady Diana Spencer in 1981. After Princess Diana's tragic death in 1997, the ring passed to her son William. When William presented his fiancée Kate Middleton with his late mother's ring, it reignited an international trend for sapphire and diamond engagement rings that has lasted to this day.
[dropshadowbox align="none" effect="lifted-both" width="auto" height="" background_color="#ffffff" border_width="1″ border_color="#dddddd" inside_shadow="false" ]Want to learn more about sapphires? Click here for OBJ's "How to Buy a Sapphire: What to Look for and How to Keep It Sparkling,"[/dropshadowbox]