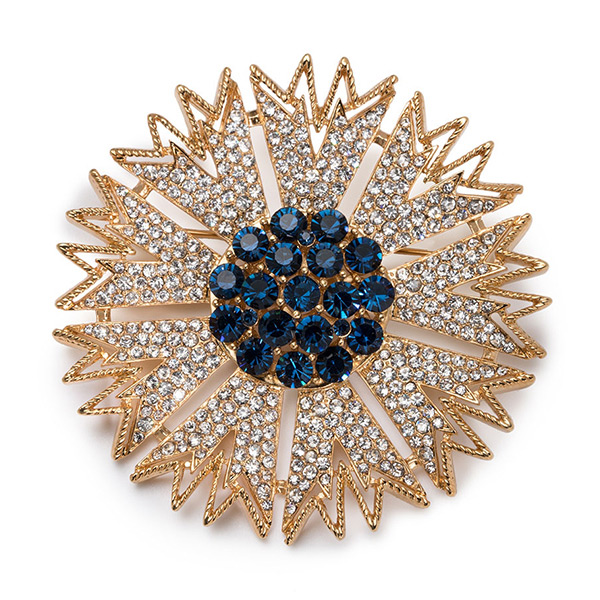 5 Designer Jewelry Gifts Under $200 Each | Rejoice!
Does this shopping dilemma sound familiar? The women on my holiday gift list are pretty sophisticated jewelry shoppers—well acquainted with the top designers and their latest collections. As much as I'd like to dazzle them with a big-name piece in a small package, it can be a challenge to stay within my gifting budget. To help us all out, I've hand-picked five designer jewelry gifts I'd be proud to give my family and friends this season. Each is available for under $200, so tuck one in your own stocking…and sparkle on!
Kenneth Jay Lane "Emerald & Gold" Teardrop Earrings
Shimmering faux emeralds the size of sugarplums epitomize the vintage glamour of America's favorite costume jeweler (and mine), Kenneth Jay Lane. This original KJL teardrop design has been worn by socialite Nicky Hilton, Real Housewife Kyle Richards, and award-winning actress Angelina Jolie (who also wore the real thing by Lorraine Schwartz at the 2009 Academy Awards). KJL's 2" teardrops in pierced or clip-on styles are $150 at kennethjaylane.com.
Georg Jensen Mercy Swirl Sterling Silver Earrings
Ever since 1904 the timeless Scandinavian designs from Georg Jensen have brought joy to women of taste around the globe. I love these Sterling Silver Mercy Swirl Earrings made for Jensen by American designer Jacqueline Rabun. The inspiration behind her Mercy collection is the human experience: "the wonderful and challenging moments we all face along the way." $125 at georgjensen.com.
Monica Rich Kosann Bejeweled Compact for Estée Lauder
This year, the folks at Estee Lauder recommend trading a mid-party glance in your phone's camera for a peek in a chic compact. That way no one will think you're snapping a selfie when you're checking your makeup!
Consider this Celestial Dreams mirrored compact by luxury jewelry designer Monica Rich Kosann. Each limited-edition designer jewelry gift in Kosann's collection is inspired by tarot cards that represent strength, encouragement, trust, beauty, focus and confidence.
Eco-consciously refillable with transparent powder, it arrives in an elegant presentation box with a velvety pouch. $175 wherever Estée Lauder products are sold.
Trifari-Style Jeweled Starburst Brooch at The Met Store
I'm crazy about this Jeweled Starburst Brooch, so right for the holidays…and beyond. It's inspired by a brooch and earrings set (called a demi-parure) in The Costume Institute collection of The Metropolitan Museum.
The original matching set, studded with sapphire-blue and white rhinestones, was created in the 1960s by Trifari, one of the leading manufacturers of 20th-century costume jewelry.
Once loved by midcentury starlets and First Ladies, Trifari costume jewelry is highly collectible today. The Jeweled Starburst Brooch is available at store.metmuseum.org for $150 ($135 for museum members).
The Cartiers: The Untold Story of the Family Behind the Jewelry Empire
I can't wait to read this bestselling new book! It's the remarkable tale of the Cartier empire, as told by the patriarch's great-granddaughter who had exclusive access to family archives.
Francesca Cartier Brickell offers a behind-the-scenes look at Cartier's most iconic jewelry, including the "cursed" Hope Diamond and the classic panther pieces for which the company is famous.
Get ready for exciting stories of Indian maharajas and Russian grand duchesses, and photos of fashionistas Wallis Simpson, Coco Chanel, and Elizabeth Taylor. $31.50 at Barnes & Noble, or wherever books are sold.
Jewelry Cleaners Make Great Stocking Stuffers
[dropshadowbox align="center" effect="raised" width="780px" height="" background_color="#ffffff" border_width="1″ border_color="#b62744″ rounded_corners="false" inside_shadow="false" outside_shadow="false" ]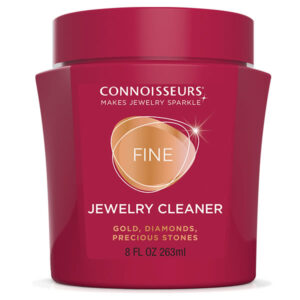 Whenever I give designer jewelry gifts I always include the appropriate jewelry cleaner…it's a thoughtful touch. Check out this handy Jewelry Cleaning Chart from Connoisseurs to learn the perfect cleaning products for every type of jewelry on your list.
[/dropshadowbox]
Happy Holidays!