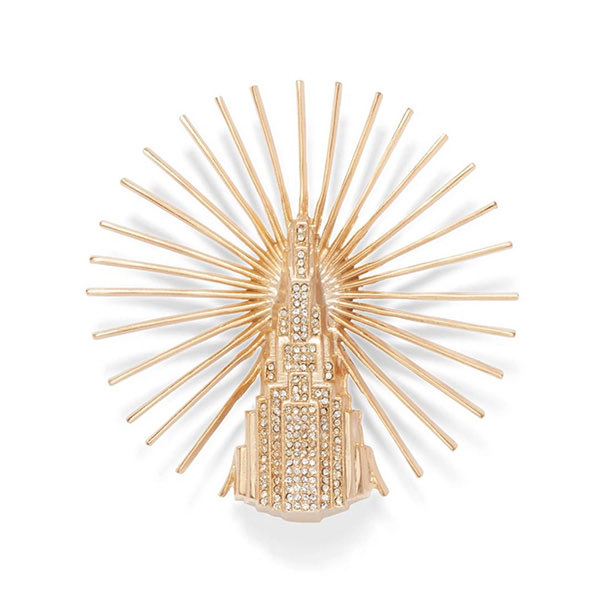 Love Art Deco? Shop the New Erté-Inspired Jewelry Collection at The Met Store
Here's some good news for those of us who are obsessed with Art Deco jewelry. The Metropolitan Museum of Art in NYC has launched an exciting jewelry collection adapted from original designs by the renowned "artist, designer and bon vivant" known as Erté (1892 – 1990). The new Erté-inspired jewelry collection is available in the museum's gift shop and on its website The Met Store. Let's take a closer look.
(Please note: At post time we learned that the museum is temporarily closed due to the Coronavirus, so consider shopping online.)
About Erté
The artist who would come to be known as The Father of Art Deco was born into a distinguished family in St. Petersburg, Russia, in 1892. His given name was Romain de Tirtoff.  At the age of 18 Romain left for Paris, where he embarked on a long career as an illustrator and a designer of theater sets, costumes, fashions and jewelry. Until his death in 1990, he was known as Erté (the French pronunciation of his initials R.T.). The Met houses a major collection of Erté's original gouaches…and now a wide range of jewelry inspired by his work.
The Harper's Bazaar Years
Erté is perhaps most famous for the extraordinary covers he designed for Harper's Bazaar magazine from 1915 to 1936. After his first successful cover, he was given an exclusive contract with Hearst which lasted ten years. He ultimately created Art Deco illustrations for 240 magazine covers, many of stylishly dressed women, which perfectly reflected—and sometimes predicted—the fashions of the times.
Erté-Inspired Jewelry a la Zizi
The Erté jewelry collection features several designs named for the famous French ballet dancer Zizi Jeanmaire, for whom Erté often created costumes and accessories. According to The Met, "The jewelry boasts openwork crescents reminiscent of the shape of a tutu or a dancer's arched, upraised arms, and each piece is decorated with Swarovski crystals, a show-stopping look that will stand out and make a statement."
Erté's dramatic Zizi Necklace is adapted in a two-tone design in 18K gold plate and rhodium plate with more than 100 Swarovski crystals. It is listed among The Met Store's bestsellers and priced at $225. Matching Zizi Drop Earrings are $85.
Figural Designs
The Art Deco era is known for bold and sinuous jewelry designs as well as stark geometric forms. The coiled Serpent Cuff pictured above is typical of Erté's fascination with exoticism (including snakes!), as well as ancient cultures. Crafted in 18K polished gold plate with more than 70 Swarovski crystals, the Erté Le Serpent Cuff is available for $160.
The Erté Phoenix Necklace is a theatrical design featuring two birds in 22K gold plate with hand-applied black enamel and sparkling Swarovski crystals. According to the museum, the twin phoenix motif echoes Erté's curtain design for the 1926 production of  "The Birds." It's available for $85.
Author's Note: My Favorite Erté Jewel
My hands-down favorite piece in the Erté-inspired jewelry collection at The Met is the Erté Deco Manhattan Pin. This classic Manhattan skyscraper reminds me of my first job in NYC: copywriter for an ad agency located on the 64th floor of the Art Deco architectural wonder, the Chrysler Building.
Crafted in satin-finish 18K gold plate with 130 Swarovski crystals, the Manhattan Pin is the perfect way for me to celebrate the jewelry industry's March is Me Month. I am ordering one for myself today. It's $225…but the memories are priceless.
To give your Art Deco jewelry and ALL your jewelry a quick sparkle on the go, try dry, disposable Jewelry Wipes by Connoisseurs!