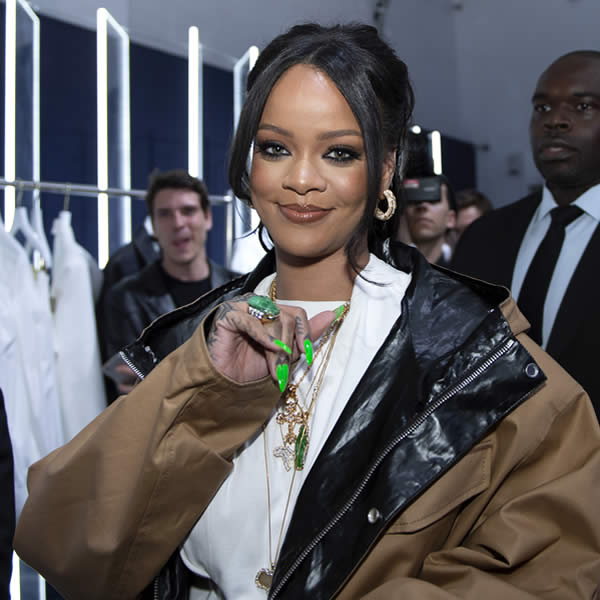 June 6, 2019 / Sharon McKee
Yes, Rihanna's FENTY Collection for LVMH Includes Jewelry!
Rihanna fans and fashionistas rejoice: the multitalented singer/entrepreneur has officially released her highly-anticipated luxury fashion brand, FENTY. RiRi's clothing and accessories collection for luxury conglomerate LVMH debuted online on last week. Lucky for jewelry-obsessed shoppers like us, Rihanna's FENTY Collection includes 11 fierce Fashion Jewelry earring and bracelet designs. Let's take a closer look.
Fenty Puma…Fenty Beauty…Now Fenty Maison
Rihanna announced her partnership with Parisian giant Louis Vuitton Moët Hennessy (LVMH) only last month.
After seeing RiRi's successful FENTY X Puma collab, and her beauty and lingerie launches, LVMH management chose the superstar to head up one of its prestigious Maisons.
According to Newsweek, "Fenty is the first new fashion house to partner with LVMH since Christian Lacroix debuted in 1987, and Rihanna is also the first black woman to ever launch a luxury goods brand with the company. The singer and businesswoman is also the youngest person to helm a Maison with the company."
The RiRi Mix
[one_half]
[/one_half][one_half_last]
[/one_half_last]
The first FENTY fashion drop includes ready-to-wear clothes and accessories that establish the line's attitude, or codes of the new Maison: most notably RiRi's love of mixing strongly tailored masculine and feminine designs.
Prices start at $180 for a FENTY baseball cap and climb to $1,360 for a reversible parka, with statement sunglasses and sexy shoes ringing up somewhere in the middle range.
Contemporary Luxury Jewelry
While designer brands under the LVMH umbrella include both Fine and Fashion Jewelry (think Bulgari, Chaumet, Givenchy, and Dior), Rihanna's FENTY Collection is positioned squarely in the Fashion Jewelry category…at least for now.
Don't be surprised if her Contemporary Luxury Jewelry line expands to include Fine Jewelry in the seasons ahead.
This just in: Forbes magazine has named Robyn Rihanna Fenty the World's Wealthiest Female Musician, with an estimated fortune of $600 million.
Rihanna's Hoop Earrings
[one_half]
[/one_half][one_half_last]
[/one_half_last]
In her personal life, Rihanna's hoop earrings are central to her aesthetic and close to her heart. So it stands to reason her FENTY Collection Noodle Hoops and Boxy (square hoop) Earrings are essential to her new line ($335).
I love these oversized white enamel hoops with RiRi's dark denim separates, daring corset dresses, and strappy sandals.
Want something a little more sparkly? Gold-tone FENTY Collection Half Glazed Hoops, as seen on the model in sunglasses above, are embellished with square Swarovski crystals. They look equally great with RiRi's power suits or casual separates ($420).
Game-Changing Ear Cuffs
[one_half]
[/one_half][one_half_last]
[/one_half_last]
Described by Rihanna's team as "a game-changing way of wearing ear jewels," the new FENTY Ear Cuffs, named "Roped In," combine sleek gold-tone wire ropes that wrap around the ears. Swarovski crystal charms dangle provocatively at top and/or bottom.
I think this revolutionary earring style, available in several sizes, has a certain swagger that marries streetwear and couture as only Rihanna can.
FENTY Collection Roped In Ear Cuffs in gold or rose gold metal range from $420 to $600.
Invest Now
[one_third]
[/one_third][one_third]
[/one_third][one_third_last]
[/one_third_last]
While Rihanna's FENTY jewelry line may seem a little pricey at first, it's wise to remember that this is the inaugural collection from a celebrity designer with her own Maison at LVMH.
For my money, the Roped In crystal ear cuffs (and matching bracelets) are well worth the investment. Not only are they chic and uniquely Rihanna, they are destined to become collector's items one day.
To see all the fashions and jewelry in Rihanna's new FENTY Collection, head to Fenty.com