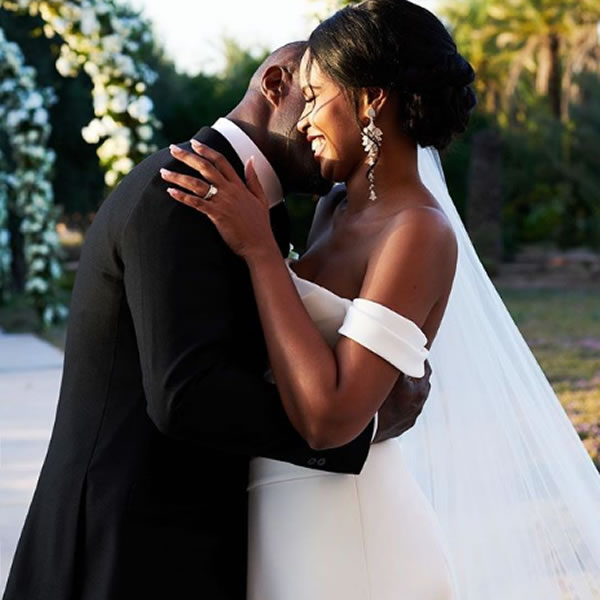 May 2, 2019 / Sharon McKee
What to Wear to a Wedding This Summer | Are You a Best-Dressed Guest?
This is the fourth post in our feature series, OBJ Weddings.
I just received a save-the-date for a July wedding, and I'm invited to two more in June…help! It's that time of year when we're all looking for advice on what to wear to a wedding ceremony and reception. Here are several best-dressed wedding guest looks you'll love.
The Elegant Guest
[one_half]
[/one_half]
[one_half_last]
[/one_half_last]
If your wedding invitation says Black Tie, you can definitely pull out all the stops and wear a long gown or sheath. Cocktail dresses (not too bare), sparkling separates, and dressy jumpsuits or pantsuits are also acceptable.
For Semi-formal weddings, most guests forgo the long gown and choose a cocktail dress, a fancy skirt and top, or an "evening" pantsuit.
[one_half]
[/one_half]
[one_half_last]
[/one_half_last]
I bought an ice-blue silk skirt with a white lace top to wear to a June 14 wedding. I'm having the long skirt tailored to tea length, which is more appropriate for the happy couple's Semi-formal affair.
OBJ Tip: If you're not sure how to decode the dress code terminology on a wedding invitation, such as Black Tie, Formal, Semi-formal, or Wedding Casual, check out this helpful guide from  Bride's magazine. It clearly explains what to wear to a wedding for each of these invitation directives (and for the men in your life too!).
The Classic Guest
[one_half]
[/one_half][one_half_last]
[/one_half_last]
Daytime weddings tend to be less formal than those with evening receptions. A classic fit-and-flare dress will give you options, especially if you find one with a matching jacket. You can dress this versatile silhouette up or down with your best jewelry and accessories.
[one_half]
[/one_half]
[one_half_last]
[/one_half_last]
Are you most comfortable in an LBD? Go for it! These days black is totally acceptable at a wedding any time of day or night. In either case, I would give basic black a chic update with leg-lengthening nude pumps or sandals, and finish things off with timeless pearls and gold hoops.
The Boho Guest
[one_half]
[/one_half][one_half_last]
[/one_half_last]
For more casual weddings, including outdoor and beach weddings, you can't go wrong in a festive midi or maxi dress. This season's crop is the best in years…especially from Tory Burch, Johanna Ortiz, and Anthropologie.
I'm craving a ruffled red print dress, which I'll wear with a top-handle bag and strappy sandals. (I love stilettos, but flats or kitten heels are best for dancing.)
[one_half]
[/one_half][one_half_last]
[/one_half_last]
I'll layer on a Boho combo of pearl and coin necklaces, or summery shell earrings by Alessandra Rich or BaubleBar.
P.S. Have you noticed that many of this season's wedding-perfect looks have pockets? It's such a bonus! Teen Vogue reports that 2019 prom dress shoppers are looking for dresses with pockets to carry their cell phones.
But that's another story for another day….
[dropshadowbox align="none" effect="lifted-both" width="auto" height="" background_color="#ffffff" border_width="1″ border_color="#dddddd" ]
Something Blue: Diamond Dazzle Stik
While we're all in the wedding mindset, let me tell you about a "something blue" must-have that is certain to become a lifelong habit. If you're close to the bride, or hosting her shower, be sure to give her and her guests a Connoisseurs Diamond Dazzle Stik.
This portable, mascara-sized jewelry cleaning wand will help keep everyone's diamond rings (and precious stones) as sparkling as the day they were bought. A recent article on Yahoo! Lifestyle praised the Diamond Dazzle Stik as a "miracle worker," with over 1,600 favorable reviews on Amazon.com. Have a dazzling wedding season![/dropshadowbox]

This article is part of our ongoing OBJ Wedding Series. Click here to read other articles in the series.