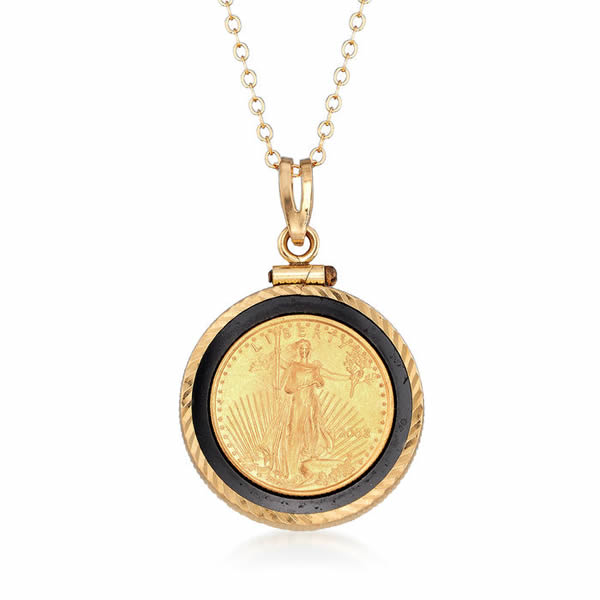 Trending: Gold Coin Jewelry | 3 New Ways to Style This Old Money Look
One of the hottest takeaways from the Spring '19 ready-to-wear collections is the gold coin jewelry trend. Not since the '80s has the fashion world seen so many coins…on necklaces, bracelets, earrings, and rings. They're trending on Instagram and available at every price point.
Here are three ways I'm styling the vintage coin look in a thoroughly modern manner. Let me know in the comments section if you and your friends are buying into the coin jewelry craze for spring and summer.
Mix Gold Coin Pendants with Pearls
Many top designers are embracing an "old money" look with real or reproduction gold coins. I especially love the eclectic mix achieved by layering "ancient" coin necklaces with pearls, as seen at Derek Lam and Oscar de la Renta.
This combo is easy to pull off if you already own a pearl choker (and if you don't, you'll definitely want one this season). Just layer a 14K gold or plated coin pendant with your best pearls for an instant heritage vibe.
Hang a Coin Charm Bracelet from a Necklace
I adapted this styling trick from the Paco Rabanne runway show, a masterclass in Boho Chic. Take any charm bracelet featuring gold coins and attach one end to a Y-necklace in a jingle-jangle fashion.
Fortunately, my charm bracelet has several coin charms, but if yours doesn't, the one above from QVC is on-trend and affordable.
You can also wear the coin bracelet on your wrist, in the traditional way, or loop it from a chain link belt. That's three looks from one investment—a must-have for Spring/Summer '19!
Create Your Own Asymmetrical Coin Earrings
Along with the gold coin jewelry trend, mismatched earrings are still going strong—especially at Oscar de la Renta and Tory Burch. To create your own custom pair of asymmetrical coin earrings, team up with a sister or girlfriend and buy two pairs in different styles.
Then swap so you both have one of each.
I love Shashi's Gold-Tone Coin Drops and Coin Hoops, above, available on Shopbop or Amazon.com. Wear one of each and your custom mismatched coin earrings will cost you and your jewelry buddy under $30 a "pair."
Ka-ching!
See Harper's Bazaar article by Kerry Pieri, Heavy Gold Chain Necklaces Are About to Take Over