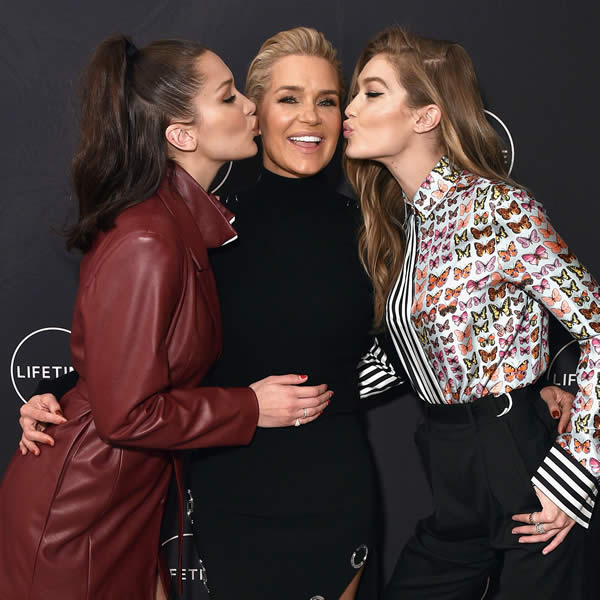 To the Moon and Back: Celestial Jewelry Gifts for Mothers Day
As I begin my Mothers Day shopping, I'm over the moon for moon motif jewelry. I've always been partial to celestial jewelry—the sun, the stars, the Zodiac—but lately I've been gravitating toward the moon (pun intended), a universally feminine symbol for the rhythm of life.
If you're looking to dazzle your mom, daughter, sister, or BFF on Mothers Day (May 12), here are three unique jewelry gifts that will show you love them to the moon and back!
Two out of three are highly personalized, so order early for best results.
Swarovski Moon Motif Stacking Rings
Tell Mom she rocks your world with this set of two cool gold-plated stacking rings.
One features a round opal-inspired, iridescent crystal centerpiece, while the other stars a moon motif in blue crystal pavé on dark plating.
I would wear this stunning celestial combination styled together in a single, layered look, but obviously the rings can be worn separately to mix and match with other stackables.
The Swarovski Symbolic Moon Stacking Ring Set is $99 at Swarovski.com.
Celestial Jewelry: Personalized Moon Charm Necklace
Isabelle Grace Jewelry is a Bedford, MA-based brand I recently discovered on Instagram.
The designer tends to favor moons, stars and hearts as repeating themes in many of her personalized pieces.
This hand-cast charm necklace is stamped at the company's studio with up to three lines of text, 14 characters max per line.
You can send your mother a personal message or list your name and those of your siblings.
(Don't forget to buy one for yourself and write your own story!)
Choose the Crescent Moon Charm in gold or rose gold color, and select from several chain options to customize this beautiful piece.
I ordered the gold-plated version on an 18-inch chain, with three lines of copy, for $84.
Please note: Isabelle Grace's personalized jewelry is made by hand, so allow two weeks for your order to ship from the studio. IsabelleGraceJewelry.com
Mom in the Moon: Custom Date Moon Phase Pendant
You've heard the expression, "If I could, I'd hang the moon for you." Well now you can! Moonglow's Moon Phase Pendant captures the moon's phase on the day Mom was born (or any special date) with a subtly luminescent stone on an 18-inch pewter necklace.
Choose the date you want to commemorate—like your mother's anniversary, or your birthday—and keep this occasion close to her heart. Moonglow will include a gift card to give her more context about the moon cycles and explain the traits associated with each.
These personalized Moon Phase Necklaces (and bracelets) are the creations of Canadian artist Luc Rouleau. I think the tiny black Swarovski crystal lends just the right touch of dark sparkle to his vintage-inspired designs.
The pendant necklace, as shown, is $38 at TheGrommet.com. Allow two to three weeks for customization and shipping.
Click here to watch a video to learn more about the Moon Phase Necklace.