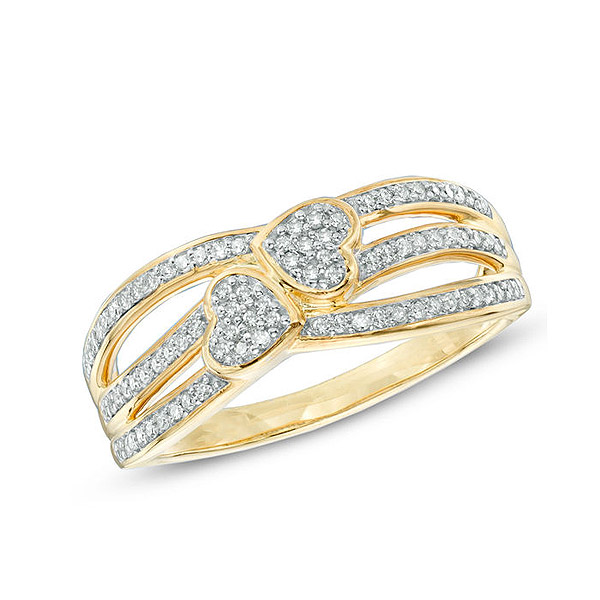 April 3, 2019 / Sharon McKee
OBJ Weddings: What's New in Promise Rings for 2019?
Here's the third post in our OBJ Weddings series; this week we're exploring promise rings. I was surprised to learn that this topic was among OBJ's 10 most popular posts of the last 14 months. So I thought we should see what's trending in promise rings for 2019. Come along for the ride!
Definition of a Promise Ring: The Knot Knows Best
While the definition of a promise ring varies from couple to couple, promise rings are widely worn as a symbol of commitment. To learn more, I turned to wedding planning authority The Knot, as I always do for wedding advice!
Kimberly Kanary, VP of public relations and social media at Kay Jewelers, told The Knot: "While many couples use the symbol as a way to signify a future engagement, others simply wear the ring as a means of reflecting devotion to one another."
The popularity of the promise ring has paralleled the growing trend for couples to live together and/or marry later in life.
An engagement may be in the future, but if there are no immediate plans for taking that ultimate step, a promise ring can signify your intention to stay together.
How Do Promise Rings Differ from Engagement Rings?
Promise rings are distinct from engagement rings by design.
So as not to compete or be confused with an actual engagement ring, a promise ring is likely to be more casual or feature smaller, more delicate stones than an engagement ring.
As for price, promise rings at fine jewelers and on e-commerce sites usually cost far  less than engagement rings—many are available for under $1,000.
This Diamond Double Heart Promise Ring from Zales is one of their most popular selections. It retails for $429.
What's Trending Now in Promise Rings?
According to The Knot, almost anything goes these days when it comes to promise rings. Common themes include hearts, intertwined designs, Claddagh rings and eternity rings, as well as multi-stone bands and mosaics.
I've observed that most of these trending promise rings closely mirror the styles of currently popular engagement rings and wedding bands.
For more on these trends, see our recent OBJ posts featuring intertwined wedding rings,  and colorful engagement ring stones (especially pink).
Do Men Wear Promise Rings?
In 2019, more and more men are wearing promise rings…and many times, both partners in a loving relationship will wear a promise ring.
Leading jewelers report that many men choose a simple band to celebrate their commitment.
Some couples prefer matching or complementary bands like those shown here from e4jewelry.com.
Titanium is a new metal-of-choice in promise rings, as well as engagement rings and wedding bands.
We'll bring you more on durable Titanium rings in a future OBJ Weddings post.
What Hand Does a Promise Ring Go On?
How you wear your promise ring is a personal decision.
I recommend wearing it on your ring finger until you receive your engagement ring, but you may choose a different finger to distinguish that you have not reached that milestone yet.
When you are ready to get engaged, check out Grandeur Moments.
This special events company, founded by two women entrepreneurs, can help you or your significant other plan the perfect (and highly Insta-worthy) marriage proposal.
Visit grandeurmoments.com for more exciting details.
[dropshadowbox align="none" effect="lifted-both" width="auto" height="" background_color="#ffffff" border_width="1″ border_color="#dddddd" ]
BuzzFeed's Buzzing About Diamond Dazzle Stik!
Want to keep your diamond or precious gemstone promise rings, engagement rings and wedding rings dazzling? Read all about the Connoisseurs Diamond Dazzle Stick, recently reviewed by popular website BuzzFeed. Click here to learn how: "This Pen Will Keep Your Diamonds Sparkling Until The End Of Time." [/dropshadowbox]

This article is part of our ongoing OBJ Wedding Series. Click here to read other articles in the series.