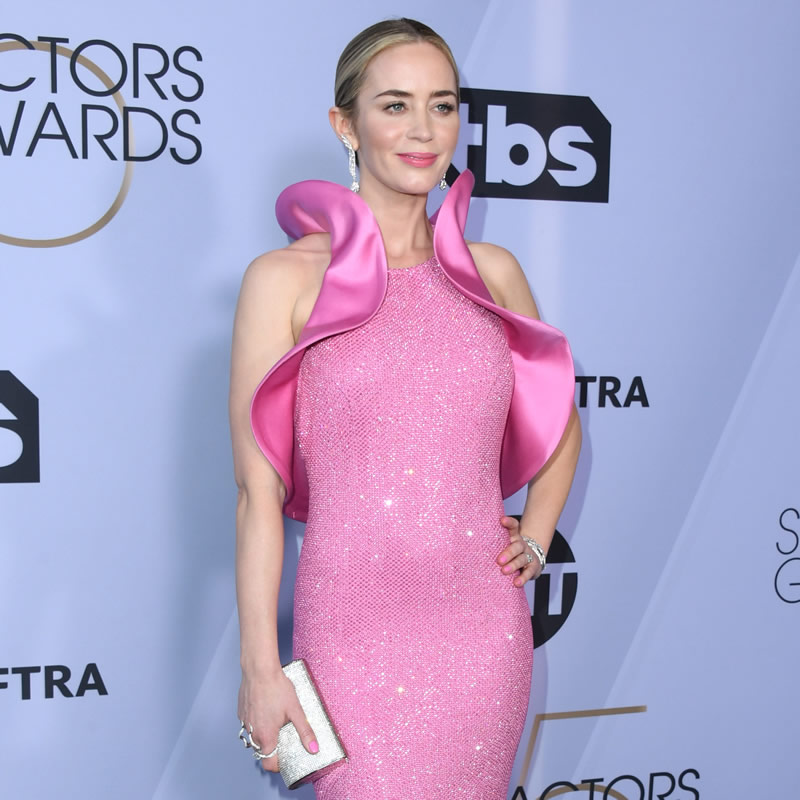 How to Get the Best SAG Awards Jewelry Looks for Less (Lady Gaga and More)   
The red carpet turned silver on January 27 to celebrate the 25th anniversary of the Screen Actors Guild Awards in Los Angeles. Film and TV A-listers seem to love this awards show more than any other…most likely because it's the only one that exclusively honors actors.
So it's no surprise that we witnessed some of the most dazzling haute couture gowns and jewels of the season. I thought it would be fun to use this "superstar jewelry" as inspiration…to see how we might achieve the best SAG jewelry looks for less—at prices we can all afford.
Lady Gaga
As she did at the Golden Globes, the extraordinary Lady Gaga turned to Tiffany & Co. for her SAG Awards red carpet diamonds. Her stunning graphic choker and butterfly wing earrings are from Tiffany's 2019 Blue Book Collection, and both are fashioned in 18K gold and platinum.
For me, it was the dynamic tension of the hard-edged necklace with the naturalistic earrings that gave Gaga's look its true star power. Try it yourself by pairing any geometric choker (look for emerald cuts and straight lines) with curvy, nature-inspired earrings. I love the 14K gold and diamond butterflies from RubyLane (above) for only $340.
Rachel Brosnahan
The Marvelous Mrs. Maisel star Rachel Brosnahan chose Irene Neuwirth's pavé diamond ribbon earrings to stand up to her pale blue Dior gown. So far, bows have been trending big time this awards season; see Alison Brie in Miu Miu for example.
Neuwirth's earrings reminded me that I had inherited a Tiffany & Co. sterling silver ribbon pin from my mother; it was a popular style in the 1980s. So I hopped online and found matching (vintage) Tiffany earrings for $485. As you can see, they're the same shape as Neuwirth's  diamond design…but at a sterling price point we all can appreciate.
Constance Wu
One of the best-loved outfits of the night belonged to Crazy Rich Asians star Constance Wu. She's been wowing the crowds this awards season in nearly nude neutrals and fabulous jewelry.
Wu's shimmering metallic gown by Oscar de La Renta features a gold and pearl leaf-shaped brooch. (Like the bow, the leaf motif is turning up on all the best carpets.) Her other jewels, including contemporary arm bracelets, are from Harry Winston.
You can find reasonably priced leaf-like pieces (the bigger the better) at luxury and vintage sites including 1stdibs, The RealReal and RubyLane. I scored one at Vintage Obsessions on Etsy for only $22.50…and it's signed Kenneth Jay Lane on the back!
Emily Blunt (See the Back and the Front)
My hands-down favorite star of the SAG Awards was the beautiful Emily Blunt, who wore Marc Jacobs with spectacular diamonds by Forevermark. While her gown's particular color and shape stirred up a bit of a Social Media frenzy, I found her entire turnout to be simply flawless.
When Blunt's name was announced as winner of the Best Female Actor in a Supporting Role category, she turned around to kiss her husband, John Krazinski, the film's director and co-star. It was then that we saw what I thought was a diamond crisscrossed brooch in her perfectly coiffed chignon.
Truth be told, Blunt's bejeweled barrette is made of Swarovski crystals and sells for a relatively affordable $178 at leletny.com. Together with her diamonds, this choice demonstrates the perfect high-low mix of accessories that daring stars and stylists are championing today.
So get out there and start dazzling!