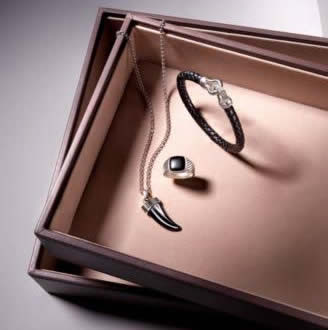 How to Buy Father's Day Gifts, 2019 | Hint: You're Not Gonna Change Him
When it comes to Father's Day, we jewelry-obsessed shoppers are naturally drawn to what we love to buy—jewelry.  However, I recently came across some powerful advice that completely changed my strategy about shopping for jewelry for Father's Day gifts in 2019 (not to mention graduations, groomsmens' gifts, etc.).
Take a look at this short video featuring Nick Sullivan, Fashion Director of Esquire magazine. I found it—and the Esquire Men's Jewelry Collection—on the Macy's website, one of my favorite sources of Fine Jewelry and Fashion Jewelry gifts.
Mr. Sullivan's message is simple and well worth remembering: you can't turn your guy into someone he's not. Concentrate less on the piece of jewelry that catches your eye, and more on reminding him of experiences that will resonate with his personality.
Chances are you'll see your man wearing what you get him…because you "get him." Thanks, Nick, for enlightening us with some terrific ideas for Father's Day, 2019 gifts.
The Travel Guy
Is your dad (husband, partner, brother) a travel guy? Reach him where he's been—or where he's going. Exotic stones such as lapis lazuli or tiger's eye might remind him of his favorite adventure trip…or plant the travel bug for a future vacation.
[one_half]
[/one_half][one_half_last]
[/one_half_last]
I adore the Lapis Lazuli Tag Pendant Necklace from the Esquire Collection (so much so I may have to borrow it from the man I love). And the collection's Horn Necklace in Onyx would be perfect for my nephew, who has just returned from a photo safari in Africa.
The Trad Guy
[one_half]
[/one_half]
[one_half_last]
[/one_half_last]
My father was a very traditional man. Not a fan of jewelry, he had to be convinced to wear a wedding ring.
Late in his life I gave him an I.D. bracelet that reminded him of his days in the Marine Corps.
He thought the heavy chain-link bracelet was masculine, yes; but I know he secretly appreciated that younger, hipper guys were wearing similar styles.
For a selection of trad guy I.D. bracelets and more Father's Day 2019 gifts, head to Macy's.com.
While you're there, check out the classic Patterned Sterling Silver Cuff from the Esquire Men's Jewelry Collection.
The Tech Guy
Many men I know, especially young men, fall into this category. Tech guys admire the latest technology, performance cars, cool gadgets, etc., and they gravitate toward strong materials such as titanium, tungsten and polished steel.
[one_half]
[/one_half][one_half_last]
[/one_half_last]
I've got my eye on a Red Tiger's Eye Ring that exactly matches the console of my brother-in-law's racing boat. A friend bought the same one to update her husband's wedding ring when they renew their vows on Father's Day, June 16.
Happy shopping!
Source: Macys.com; The Esquire Men's Jewelry Collection; Prices subject to change.