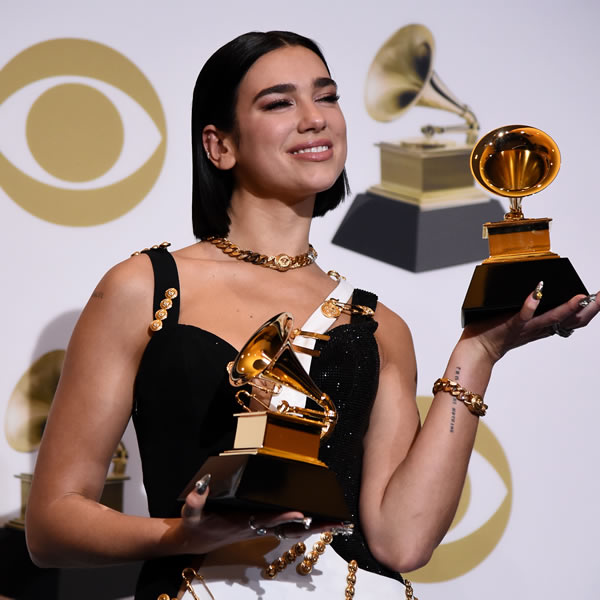 February 15, 2019 / Sharon McKee
Dua Lipa Rocks Versace Safety Pin Jewelry at the Grammys | Shop This Trend Today
Did you watch the Grammy Awards? My "Best Dressed" nod goes to the mega-talented Dua Lipa, who stunned in not one but two new Atelier Versace looks. I loved the juxtaposition of Dua's regal red carpet gown, worn with Bulgari diamonds, with her on-stage choice—a sexy, asymmetrical number in black and white.
Adorned with dozens of golden safety pins and clip accents featuring Versace's signature Medusa head, Dua's performance look is certain to send fans (and the jewelry obsessed) shopping for trending safety pin jewelry. Including me!
Everything '90s Is New Again
Fashionistas will remember Gianni Versace's original, and now iconic, Safety Pin Dress from the Spring 1994 collection.
Often referred to simply as "THAT Dress," it achieved instant fame when Elizabeth Hurley (barely) wore it to the premiere of "Four Weddings and a Funeral."
Through the decades jewelry designers have interpreted the humble safety pin at every price point, in plain metal to high-karat gold, from diamonds to emeralds to rubies, and more.
The advent of "utility chic" on the Spring and Fall '19 runways (think cargo pants, camo, and khaki) signals that hardware style jewelry will be trending for seasons to come.
UPDATE:  Check out this recent Harper's Bazaar article, Elizabeth Hurley on the Versace Pin Dress That Changed Everything.
So start shopping!
Choose from New and Vintage
Check out Versace.com to see the the brand's newest safety pin earrings in bright gold-tone metal. For vintage pieces by Versace and more top designers, head quickly to 1stdibs.com. At post time I found a Versace Medusa safety pin brooch (on hold), and Moschino safety pin earrings for $295.
Will you beat me to them?