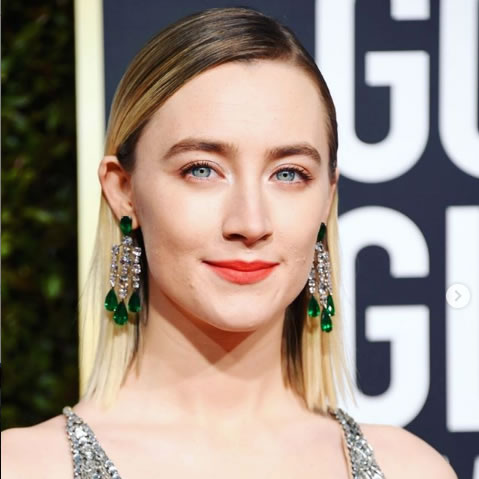 Crazy Gorgeous Emeralds at the 2019 Golden Globes
OBJ was on vacation last week, but I'm still obsessed with the dazzling emeralds at the 2019 Golden Globes. Film and TV A-listers of all ages embraced the opulent green gems, a symbol of hope and renewal, and, for some, a deep connection to their heritage. Let's take a closer look.
Michelle Yeoh
"In a move her Crazy Rich Asians character Eleanor Young would approve of, Michelle Yeoh brought heavy duty bling to the Golden Globes red carpet," reported Entertainment Weekly. The star arrived wearing her own massive emerald ring, the one that actually was used in pivotal scenes in the film, including when Nick proposes to Rachel (I wish I'd known that when I went to the movie!).
As it turned out, the film's wardrobe department couldn't find just the right emerald, so Yeoh offered the stunning piece from her personal collection. "It was very important for it to be real," she told EW. "And Eleanor was a character who knew what she wore had to be flawless. Her [own] mother-in-law did not approve and did not give her the family ring at the end of the day… so that ring had to be very special."
I loved Yeoh's Golden Globes look: a leather-topped gown and matching cape by Shiatzy Chen. It brought out the best in Yeoh's ring…and perhaps a little (green) envy in others whose emeralds were only borrowed for the night.
Saoirse Ronan
Mary, Queen of Scots star Saoirse Ronan slayed at the Globes in a slender silver column, custom made for her by Gucci. Uber-stylist Elizabeth Saltzman added knockout emerald and diamond chandeliers by Chopard, which were heartily approved by the Irish-born Ronan (#MeToo). The Chopard Haute Joaillerie collection earrings feature 34.88 carats of pear-shaped emeralds and nearly 23 carats of diamonds.
Catherine Zeta-Jones
It wouldn't be a red carpet without jewels by Lorraine Schwartz, and her Colombian emerald earrings on Catherine Zeta-Jones did not disappoint. Together with a matching ring (not shown) they totaled over 200 carats, according to Schwartz on Insta. I'm willing to bet the Queen America star matched her Elie Saab Couture gown to her jewels, not the other way around.
Jodie Comer
I loved her in The White Princess and as the beautiful villainesse Villanelle in Killing Eve. Fresh-faced Jodie Comer looked regal on the red carpet in one-of-a-kind emerald and diamond earrings from the Oui collection by Nikos Koulis.
Charlize Theron
Always sophisticated and glamorous, Charlize reminds us all what a Hollywood movie star is all about. Her black and white gown with bow (a major Globes trend) was accessorized with a stack of diamond bracelets and an exquisite emerald ring by Bulgari…and a b&w #TIMESUPX2 wristband. Very cool.
Throwback Thursday
Do you love the January birthstone garnet?
See our post from this week last year to learn more.
OBJ Tip: To learn the best way to clean and care for your precious emerald jewelry, just click here.