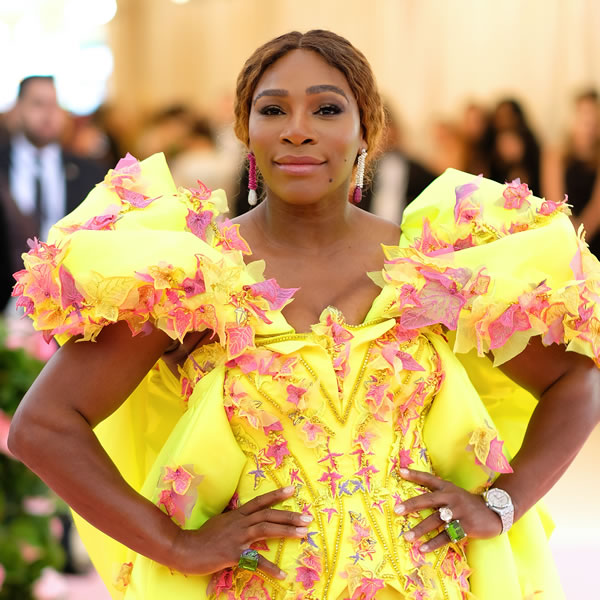 Coming Soon: A New Serena Williams Jewelry Collection | The Return of the Diamond Tennis Bracelet?
As tennis superstar and entrepreneur Serena Williams warms up for Wimbledon (July 1-14), jewelry and sports fans like me are happy to learn she is launching her own Fine Jewelry line this fall. According to JCK magazine, a leading jewelry industry authority, the new Serena Williams Jewelry collection for KP Sanghvi will include a group of dazzling diamond tennis bracelets.
And if Serena says diamond tennis bracelets are back, they're back!
What's the scoop?
Details of Serena's new jewelry line have been rather hush-hush, but I spied her pal and fellow tennis player Caroline Wozniacki and her bridesmaids wearing matching diamond tennis bracelets at her June 15 wedding. I'm betting they were gifts from bridesmaid and bestie Serena.
For me, the simple diamond tennis bracelet or line bracelet is a must-have classic…it has been a basic in my jewelry wardrobe for decades.
However, for others, this particular jewelry style's star may have faded slightly, as friendship bracelets and charm bracelets have taken over the spotlight.
Serena's enormous influence is about to change all that.
Mom, champion, role model, entrepreneur, fashionista, female icon
Serena Williams humbly describes herself on Instagram as: "I am Olympia's mom."
She's also a world-class athlete, a savvy businesswomen with her own clothing line and collaborations with Nike and Beats, and a major fashion influencer (did you see her at the Met Gala?).
The 23-time Grand Slam winner and four-time Olympic gold medalist is a role model to millions, particularly admired by younger consumers. She has more than 11.1 million followers on Instagram alone!
A recent YouGov poll ranked Serena as the most popular contemporary sports celebrity, and just this week she scored her own Wheaties box…a long-overdue tribute.
Forbes showcased her on its June 2019 special issue cover about "The Richest Self-Made Women" in America.
More about the new Serena Williams Jewelry Collection
JCK reports that Serena's new jewelry line will be a karat-gold and diamond fashion collection, natural and ethically sourced, aimed at the female self-purchase and gift market. It should appear in stores around September, with introductory prices ranging from $299 to $10,000.
The line will initially feature necklaces and rings and also what her team calls "a reinvention of the tennis bracelet." Seeing the potential to "reinvigorate this category," the parent company will no doubt promote the diamond bracelets at Wimbledon and later at the U.S. Open in New York.
Why is it called a tennis bracelet?
The simple diamond eternity-style bracelet can be traced back to the 1920s, but it didn't earn its nickname until 1978.
As the story goes, a young Chris Evert stopped play at the U.S. Open to search for a bracelet that had flown off her wrist in the middle of a game.
Ever since, the style she was wearing that day has been called the tennis bracelet…the name just stuck.
To learn more about the history of the tennis bracelet, please click here. 
Diamonds on Center Court?
Be sure to check out @wimbledon and @serenawilliams on Instagram, as well as TV coverage of the prestigious British tournament, for a sneak peek of the fashionable Serena's new bracelets, rings, and necklaces.
And check back with OBJ to get more details and photos of the Serena Williams Jewelry collection as soon as they are available.
November 7, 2019 — Serena's jewelry has finally arrived!